After his beatification in 2015 the process for canonization of the South African Benedict Daswa, who was killed for his refusal to support witchcraft, is ongoing.  In 2015 Bishop Joao Rodriguez of Tzaneen diocese said he hopes devotion to "this apostle of life" will spread and that people "will receive special graces" from Daswa's intercession, especially for "problematic family life relations and bondage to the occult and witchcraft." Catholics may express private devotion to Daswa and report any favors and miracles through his intercession to the Diocese of Tzaneen.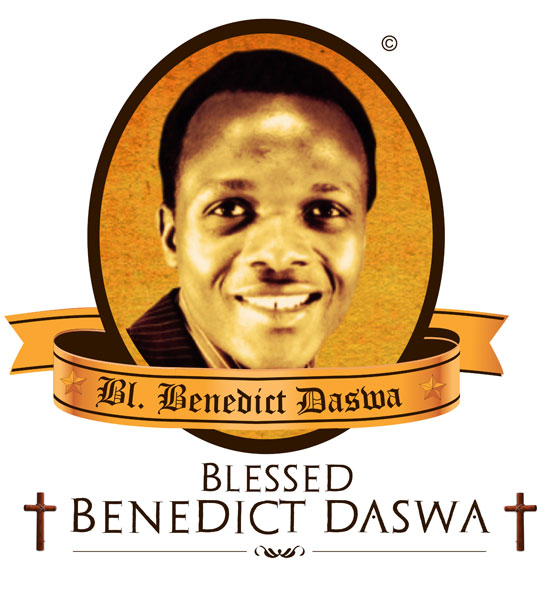 Benedict was born Tshimangadzo Samel Daswa in 1946 into a simple rural family in a remote village in Venda. His close-knit hardworking family of father, mother and four younger siblings belonged to the Lemba tribe who are also known as "black Jews." They observed some traditional Lemba customs and rituals and passed on to their children values of hard work, respect and care for others. Samuel attended school in the village and was a keen student. As was the custom he was a herdboy and with others in the family he spent many hours working in his father's fields where a love for gardening and growing vegetables was cultivated alongside the crops he tended.
He spent some holidays in Johannesburg with an uncle and this is where he met a young white Catholic who exposed him to the Catholic faith. As a teenager he began his instruction in the parish outstation at Nweli, under a local catechist, Benedict Risimati, whose name he took when he was baptised and confirmed soon afterwards.
In this remote part of the country the Catholic Church was just beginning to take root. Witchcraft is common in addressing the complexities of life with a belief that problems, sickness and evil events are caused by witches. Sangomas, or diviners are employed to seek out the cause and the "witch" deemed responsible may be killed or chased away to another village and this is still happening as is still heard on the news from time to time. After his conversion Benedict was strongly opposed to this and was often outspoken unlike others who were afraid to speak out. He was utterly convinced that his faith was the means of overcoming witchcraft and the fear, mistrust and enmity it brings into people's lives.
In spite of this difference Benedict became a successful, well-respected and popular man in his community. After his father's accidental death he had taken over responsibility for his younger siblings, he studied to be a teacher and rose to being headmaster of the primary school. He was also part of the chief's council. He married Shadi Eveline a Lutheran woman who later became a Catholic and the couple had eight children to whom he in turn passed on the values of honesty and generosity he had inherited from his own parents.
Benedict's faith became central to his own family life. He looked upon his own home and family as a "domestic church." He believed that marriage should be an equal partnership between the spouses and despite criticism continued to help his wife with family chores. Every night there was evening prayer, including prayer for others in need, and Sunday mass was sacrosanct when the whole family went to church together. As a Christmas tradition the whole extended Daswa family gathered together to celebrate, listen to Benedict read the Christmas story and share food and drink and small gifts. He was very active in the local church in many ways leading the service in the absence of the priest, teaching the faith, supporting the parish building fund and supplying many of the parish's needs.
While never becoming rich the Daswas had a nice brick house and some of his energy was spent on maintaining his vegetable garden as a source of food and some income. Poor children from the community and the school could work in his garden to raise money for uniforms and books, rather than being given handouts. In his generosity he also often gave people lifts even to the hospital in town some 40ks away.
From his childhood days Benedict had loved sport and he worked hard with the youth, starting a soccer team. A story is told that when the team kept losing matches they wanted to resort to using muti ("medicine") but Benedict.was vehemently opposed to this and left the team to start another.
His strength of character was obvious in his conviction and adherence to his faith in the face of opposition but also in his involvements in community affairs and the success he achieved as the local school principal. All this clearly caused some degree of jealousy from others in the community.
During the early summer of 1989 a number of violent thunderstorms created havoc in the area. The community, not understanding this as a natural phenomenon, wanted to consult a sangoma about the matter and solicited money from the villagers. Benedict's refusal to pay was the catalyst that brought about his violent murder on the night of 2 February 1990 as his car was ambushed and stoned. When he ran to a nearby rondavel for help his pursuers threatened the owner so Benedict came out of his hidingplace whereupon they crushed his skull with a knobkierie and poured boiling water over him. The rondavel owner ran to call his brother, who sat by the body all night. The police were on hand but chose not to intervene. The attackers were known, the case did come to court but was dismissed due to lack of evidence, as villagers were afraid to speak out.
Benedict suffered for his faith, leaving his wife and seven children with another, the last, born four months after his death. As can be imagined the experience for the immediate and wider family was traumatic in the extreme. His wife died of cancer some years ago and his children, now grownup, have nearly all moved away to other parts of the country. His mother Ida, a staunch Catholic is still living in the village and she saved the money from her pension to pay for his tombstone. Reconciliation in the community is still unresolved,. Many people and groups do make the pilgrimage there and a shrine has been erected. Pilgrims gathering on the anniversary of his death or at other times.
It is reported that his killing was planned by adults but carried out by youth. Whatever their reasons for this brutal attack his life of faith was a witness and earned him the crown of martyrdom. Witchcraft continues to be a part of the peoples' worldview and plays an important role in dealing with misfortune and in attempting to bring about good fortune. When he became a Catholic Benedict discovered a new worldview centered on Christ for whom he lived and died. As a true apostle of life Benedict is an inspiring role-model to help people become free of enslavement to the world of witchcraft and to experience the true freedom of the children of God.