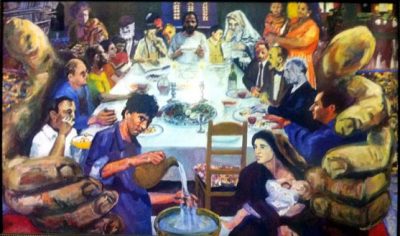 This is a chance to deepen our awareness that when we are together sharing a meal as a family God is present with us in our little Church of the Home. This format is based on the Jewish weekly Sabbath meal and can be used at different times during the year. It could be celebrated to end a family fast day or with a simple soup and bread meal as a sacrifice. Money saved can then be donated to the poor.
REQUIREMENTS:
For the prayer part: Bread or matzos, wine or grape juice, a candle, writing material.
For the meal: Family's choice.
THE PRAYER TIME.
All begin by making the sign of the Cross.
The leader holds up the piece of bread and says:
BLESSED ARE YOU LORD,GOD OF THE UNIVERSE. THANKS TO YOUR GOODNESS WE ARE GATHERED HERE AND HAVE THIS BREAD TO SHARE. BY SHARING THIS MEAL MAY WE BE UNITED IN LOVE AND READY TO SHARE WITH OTHERS.
The leader breaks up the bread and shares it with all present and then continues, holding up the wine or grape juice:
BLESSED ARE YOUR LORD, GOD OF THE UNIVERSE. THANKS TO YOUR GOODNESS WE ARE GATHERED HERE AND HAVE THIS FRUIT OF THE VINE TO SHARE. MAY WE WHO SHARE KNOW THE JOY OF YOUR PRESENCE AND SHARE THIS JOY WITH OTHERS.
Everyone has a sip. A family member then lights the candle and all are invited to offer a short prayer. These may be prayers of praise, thanksgiving or intercession for a special need for the family.
After the prayers the leader continues:
AT THE LAST SUPPER OF JESUS WITH HIS FRIENDS HE WASHED THEIR FEET AS A SIGN OF SERVICE. WE ARE ASKED TO SHOW A SIGN OF OUR WILLINGNESS TO SERVE EACH OTHER IN MEMORY OF HIM. LET EACH PERSON MAKE A SIGN OF
THEIR PARTICULAR COMMITMENT TO SERVE THE FAMILY AT THIS TIME. (If this is done together with the PROMISE BRANCH let the promises be hung on the branch)
To conclude all join hands and the leader says:
GOD OUR FATHER, LOOK KINDLY ON OUR FAMILY. MAY WE WHO ARE GATHERED TOGETHER AT THIS TABLE, ONE DAY BE REUNITED WITH THOSE MEMBERS WHO HAVE DIED BEFORE US AS WE GATHER TOGETHER IN THE JOY OF YOUR KINGDOM. AMEN.
After the prayer time enjoy the prepared food together.