For overvew of June reflections go to https://marfam.org.za/2021/05/01/family-year-planner-overview-april-may-june/?swcfpc=1
June 3. St Charles Lwanga, St Kizito and other Uganda martyrs. The Ugandan youth at St Kizito's parish had invited all their fellow Ugandan youth to pay special honour to the 22 young boy martyrs, some Catholic and some Anglican, as true witnesses of the Christian faith. Obed explained, "Charles Lwanga was a catechist and leader but Kizito at age 14 was the youngest in the group. In 1886 King Mwanga, who despised Christianity gave orders for the pages in his service to do what they saw as sinful homosexual acts. As a punishment for their refusal to obey him they were condemned to death, tied up in a grass mat, put on a pyre and burnt to death. The story is told that Kizito, who was baptised just before his death, was dancing and singing for joy to be allowed to die for Jesus." Obed asked the others in the group, "is it not also like the story of the 7 brothers and their mother in the Old Testament book of Maccabees? Do you think we would be prepared to die for our beliefs?"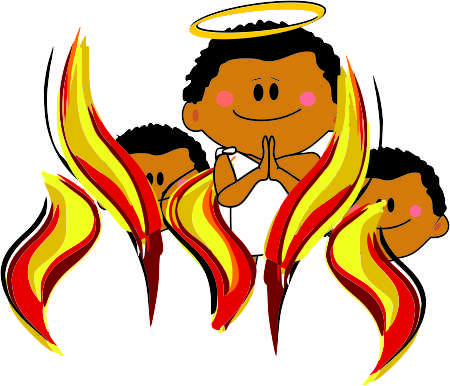 When the young man had been tortured and was near death he said, "You accursed wretch, you dismiss us from this present life, but the King of the Universe will raise us up to an everlasting renewal of life because we have died for his laws." 2 Maccabees 7:9-14. Pope Francis: The heart of the Church is full of young saints who devoted their lives to Christ, many of them dying a martyr's death. Their radiant witness encourages us and awakens us from our lethargy. Their example shows what young people are capable of, when you open yourselves up to encounter Christ. They showed us that there is another way to spend our youth. CV49
June 4. Beauty was in 3rd year medical school studying ophthalmology but still enjoyed coming to the family group when she could. She had been a catechist and during her last years at school had felt a calling to study medicine. "Not only religious life is a vocation," she shared. "It was when I was doing practical work in remote villages that I saw many cases of glaucoma, something that can be treated and prevented. Some of those old people are left on their own, some are living with family but I was impressed by one little girl of 14 who was living with her granny and looking after her. She was really the old lady's life-saver. That's what influenced my course of study."
Tobias said,"Take courage father." With this he applied the medicine on his eyes. Next with both his hands he peeled off the white films from the corners of his eyes. Then he saw his son and embraced him and he wept and said, "Here I see my son, the light of my eyes!" Read the story of healing from Tobit 11:5-15. Pope Francis: Jesus told the parable of the Good Samaritan in answer to the question, "Who is my neighbour?" In the society of Jesus' time this usually meant those nearest to us. It was felt that help should be given primarily to those of one's own group and race. For some Jews Samaritans were looked down upon, considered impure. Jesus transforms this approach. He asks us to become neighbours to all. FT 80
June 5. World environment day. At the end of the week the families reflected on the various stories of Tobit and Anna, Tobias and Sarah and the archangel Raphael. Beauty shared, "What I liked best was how human the whole situation was. An old couple arguing, a young man being led into an arranged marriage, an experience of healing and how God was present to that family through all this." "I hope that when I find the right man, we will be able to pray together too as a couple and as a family about our own lives and all of creation. We could also keep a journal.
"When you and your daughter-in-law Sarah prayed I brought a reminder of your prayer before the Holy One, and when you buried the dead I was likewise present with you. I am Raphael, one of the seven holy angels who present the prayers of the saints and enter into the presence of the glory of the Lord. Write in a book everything that has happened to you." From Tobit 12. Pope Francis: The urgent challenge to protect our common home includes a concern to bring the whole human family together to seek a sustainable and integral development, for we know that things can change. LS13.
June 6. Solemnity of the Body and Blood of Jesus Christ. B. Fr Brian preached this sermon every year hoping they would remember. "This is one of the most important feasts in the Church because it teaches us about the real presence of Jesus in the Eucharist. I want to ask you whether you really do believe that as Catholics, or whether it is something you don't really think about and take for granted. As a priest it challenges me too. It helps me when I remind myself that God is present in other sacraments and is also present in the sacramental love relationship of marriage, which we should reverence much more than we do. To strengthen people's faith there have been recognised miracles over the centuries of the bread and wine physically being changed in appearance to human flesh and blood.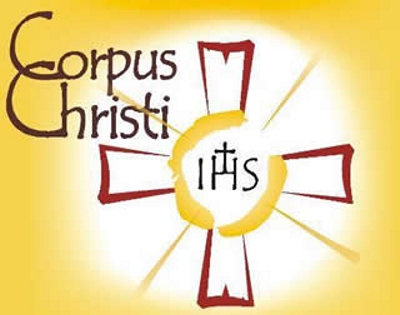 As they were eating he took bread and blessed and broke it and gave it to them and said, "Take, this is my body." And he took a chalice and when he had given thanks he gave it to them and they all drank of it. And he said to them, "this is my blood of the covenant, which is poured out for many." From Mark 14:12-26. Pope Francis: Jesus knocks on the door of families to share with the Eucharistic supper. The Eucharist is the sacrament of the new covenant where Christ's redemptive work is carried out. The close bond between married life and the Eucharist becomes all the more clear. AL 318
June 7. Beatitudes are our source for reflection and sharing for many of the weekdays of June. As the Spirit of the Kingdom they have much to offer.
While some lucky young people were hoping and planning to be going to World Youth Day the rest of the youth group were also asked to reflect and share, if possibly even at home with their families. The youth leader suggested, "The eight beatitudes are a really good place to start reflecting. You can choose your favourite one, even before you start, but listen carefully to the point each beatitude makes. Together we call them the Spirit of the Kingdom." Patrick with Mary, his mom, decided to do just that.
Jesus went up on the mountain and his disciples came to him. He sat down and he opened his mouth and taught them saying, "Blessed are …………….." Matthew 5:1-12. Pope Francis: Today we have to realise that a true ecological approach becomes a social approach; it must integrate questions of justice in debates on the environment so as to hear both the cry of the earth and the cry of the poor. LS 49