For more detailed explanation go to https://marfam.org.za/2023/08/11/marfam-daily-thoughts-september-1-october-4-season-of-creation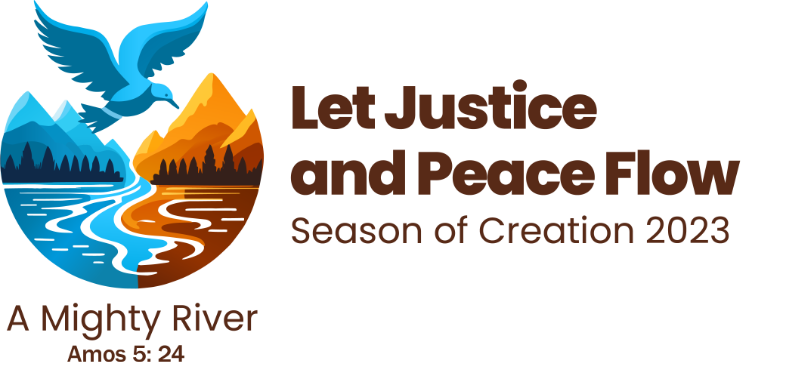 MARFAM INTRODUCTION. SEPTEMBER. Our World of Families and Our Heritage.
New insights in recent years in our way of thinking are the awareness of creation and our responsibility for the CARE OF OUR COMMON HOME outlined by Pope Francis in his 2015 encyclical LAUDATO SI. This is taken up in the MARFAM theme OUR WORLD, A FAMILY OF FAMILIES. The various forms of the human family with different religions, political ideologies and experiences of wealth and poverty are the greatest threat to our world's security and stability today. Every single family in creation will suffer because of our actions. Every family of any kind, from a human one-parent family, to the ancient colossuses of trees in our forests, and the tiniest of creatures in the sea, has a role to play to reproduce and sustain our world, as a family of families. Is this the heritage we are leaving to our children? How can it be redeemed during this Heritage month in South Africa and especially during the Season of Creation? Pope Francis: Culture is more than what we have inherited from the past; it is also, a living dynamic and participatory present reality, which cannot be excluded as we rethink the relationship between human beings and the environment. LS143.
Setting the scene for the MARFAM DAILY THOUGHTS. A 4 step format is used: SEE-JUDGE-ACT 1. A look at life – Parish Justice and Peace and Family Ministry team sharing, and an eco-safari. 2. Scripture, from readings of the day. 3. Pope Francis writings, particularly Laudato Si'. 4. Daily Eco-tip and prayer. Suggested family prayer for the season: Glory be to the Father and to the Son and to the Holy Spirit, as it was in the beginning is now and ever shall be. Amen.
Extracts from Pope Francis message for World Day of Prayer for the Care of Creation, September 1 2023 "Let justice flow on like a river, righteousness like a never-failing stream" (Amos 5:24). The image speaks to us of what God desires. Justice must reign; it is as essential to our life as God's children made in his likeness, as water is for our physical survival. This justice must flow forth wherever it is needed, neither remaining hidden deep beneath the ground nor vanishing like water that evaporates before it can bring sustenance. God wants everyone to strive to be just in every situation, to live according to his laws and thus enable life to flourish. When we "seek first the kingdom of God" (Mt 6:33), we maintain a right relationship with God, humanity and all creatures of nature. Immersed in creation we can sense the maternal heartbeat of the earth. Just as the hearts of babies in the womb beat in harmony with those of their mothers, so in order to grow as people, we need to harmonize our own rhythms of life with those of creation, which gives us life.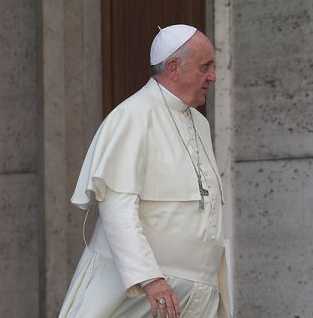 How can we contribute to the mighty river of justice and peace in this Season of Creation? What can we, as Christian communities, do to heal our common home so that it can once again teem with life? We must do this by resolving to transform our hearts, our lifestyles, and the public policies ruling our societies.
Let us join the mighty river by transforming our hearts. It is that "ecological conversion," the renewal of our relationship with creation so that we no longer see it as an object to be exploited but cherish it instead as a sacred gift from our Creator. An integral approach to respect for the environment involves four relationships: with God, with our brothers and sisters of today and tomorrow, with all of nature, and with ourselves. Creation refers to God's mysterious, magnificent act of creating the planet and the universe out of nothing and to the continuing result of that act, an inexhaustible gift. During the liturgy and personal prayer in "the great cathedral of creation", [4] let us recall the great Artist who creates such beauty, and reflect on the mystery of that loving decision to create the cosmos.
Let us add to the flow of this mighty river by transforming our lifestyles. Starting from grateful wonder at the Creator and his creation, let us repent of our "ecological sins" that harm the world of nature and our fellow men and women. Let us adopt lifestyles marked by less waste and unnecessary consumption. Let us be as mindful as we can about our habits and economic decisions so that all can thrive – our fellow men and women and future generations. Let us cooperate in God's ongoing creation through positive choices: using resources with moderation and a joyful sobriety, disposing and recycling waste, and making greater use of available products and services that are environmentally and socially responsible.
Lastly, for the mighty river to continue flowing, we must transform the public policies that govern our societies and shape the lives of young people today and tomorrow. Economic policies that promote scandalous wealth for a privileged few and degrading conditions for many others, spell the end of peace and justice. The richer nations have contracted an "ecological debt" that must be paid (cf. Laudato Si', 51). [5] The world leaders at COP28 summit in Dubai from 30 November to 12 December must listen to science and institute a rapid and equitable transition to end the era of fossil fuel.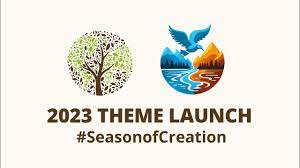 2023 PRAYER FOR CREATION from SEASON OF CREATION CELEBRATION GUIDELINES
Creator of All,
From your communion of love life sprung forth like a mighty river and the whole cosmos came into being. On this Earth of overflowing love, the Word was made flesh and went forth with the life-giving waters proclaiming peace and justice for all creation.
You called human beings to till and keep your garden. You placed us into right relationship with each creature, but we failed to listen to the cries of the Earth and the cries of the most vulnerable. We broke with the flowing communion of love and sinned against you by not safeguarding the conditions for life.
We lament the loss of our fellow species and their habitats, we grieve the loss of human cultures, along with the lives and livelihoods that have been displaced or perished, and we ache at the sight of an economy of death, war, and violence that we have inflicted on ourselves and on the Earth.
Open our ears to your creative, reconciling and sustaining Word that calls to us through the book of Scripture and the book of creation. Bless us once again with your life-giving waters so that the Creator Spirit may let justice and peace flow in our hearts and overflow into all creation.
Open our hearts to receive the living waters of God's justice and peace, and to share it with our suffering brothers and sisters, all creatures around us, and all creation.
Bless us to walk together with all people of good will so that the many streams of the living waters of God's justice and peace may become a mighty river all over the Earth.
In the name of the One who came to proclaim good news to all creation, Jesus Christ. Amen.
September 1. Day of Prayer for Care of Creation.
The Justice and Peace and Family teams were combining to commemorate Heritage month using reflections they had prepared. The opening reflection was on the parable of the 5 wise maidens who brought along oil for their lamps and 5 foolish maidens who didn't bother. They could see a clear connection to the environmental issues facing the world at this time. George, the JP coordinator asked, "Are we really prepared for drought and water shortages or other effects of global warming?" Mirriam, from the Family Life team, agreed. "Environmental consciousness really has to begin with home and family." One family decided to spend time together on an eco-safari and would share their reflections.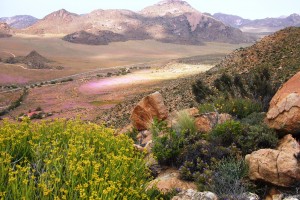 Reflect, share, act. Scripture: The kingdom of heaven shall be compared to ten maidens who took their lamps and went to meet the bridegroom. Five of them were foolish and five were wise. Read from Matthew 25:1-13. Pope Francis. Human beings too are creatures of this world, enjoying a right to life and happiness, and endowed with unique dignity. So we cannot fail to consider the effects on people's lives of environmental deterioration, current models of development and the throwaway culture. LS 43.
Eco-tip and prayer: Do some study and plan what special prayers and actions will be taken up, ideally together as a family, during these 5 weeks. Pray: Glory be to the Father, and to the Son and to the Holy Spirit, as it was in the beginning and now and ever shall be world without end. Amen.