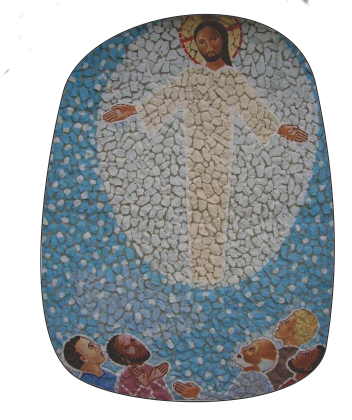 (Ascension Day is celebrated on Sunday or on Thursday as done traditionally. ) May 18. Mr and Mrs Post thought that it would be a good idea to make a short study of the history of the early Church so they told their children. "Now that Easter is over and all the left-over chocolate eaten, let's go on a journey back in time and use the Acts of the Apostles as a bit of a route map.  We already know a lot of what happened mainly from the gospels but we want to put the puzzle together a little bit.  We hear many names in the news today of the places where Christianity began, places like Antioch, Damascus and Syria and Jerusalem."  "To start, after the Resurrection Jesus appeared to people alone or in groups, e.g Mary Magdalene who thought Jesus was the gardener, the apostles then went fishing, Thomas who had a special experience of touching Jesus' wounds.  The Acts of the Apostles was written as a continuation of the gospel of Luke and is mainly about Paul and his conversion and his missionary journeys. It begins with a short description of post-resurrection events, the promise of the Holy Spirit   and Jesus' farewell, his being taken from their sight. 
Reflect, share, act. Scripture. His final words were, "You shall receive power when the Holy Spirit has come upon you and you shall be my witnesses in Jerusalem and to the end of the earth." Acts 1:8. Now it is up to us in our end of the earth. Could we as a family do more to bear witness? Let us discuss that and try to make a plan in these few days between now and Pentecost." Pope Francis. In calling to mind the figure of St Francis of Assisi we come to realise that a healthy relationship with creation is one dimension of overall personal conversion, which entails the recognition or our errors, sins, faults and failures and lead to heartfelt repentance and desire to change. LS 217T. The ecological conversion needed to bring about lasting change is also a community conversion. LS219 It calls for a number of attitudes which together foster a spirit of generous care, full of tenderness. It entails gratitude, a recognition that the world is God's loving gift and that we are called to imitate his generosity in self-sacrifice and good works. LS 220. Pray. Mary, Mother of the Christian churches of South Africa pray for us.
Christian Unity Week, SA.. Pray for the World Council of Churches, SA Council of Churches,  Church Unity Commission, Minister Fraternal.