April 8. Holy Saturday. Bruce introduced the reflection from the Liturgy of the Word of the Easter Vigil.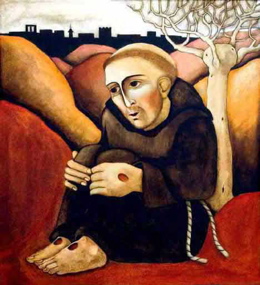 Scripture: "Your maker is your husband, the Lord of hosts is his name and the Holy One of Israel is your redeemer, the God of the whole earth he is called. For the Lord has called you like a wife forsaken and grieved in spirit, like a wife of youth when she is cast off. For a brief moment I forsook you but with great compassion I will gather you. With overflowing wrath for a moment I hid my face from you, but with everlasting mercy I will have compassion on you says the Lord, your Redeemer." Is 54: 5-14
The Little Flowers of St Francis of Assisi. Now although these sacred wounds, which had been impressed upon him by Christ, gave great joy to his heart, yet they caused unspeakable pain to his body; so that, being constrained by necessity, he made choice of Brother Leo, for his great purity and simplicity, to whom he revealed the whole matter, suffering him to touch and dress his wounds on all days except during the time from Thursday evening till Saturday morning, for then he would not by any human remedy mitigate the pain of Christ's Passion, which he bore in his body, because at that time our Saviour Jesus Christ was taken and crucified, died and was buried for us. And it came to pass sometimes that when Brother Leo was removing the bandage from the wound in the side, St Francis, because of the pain caused thereby, would lay his hand on Brother Leo's breast, and at the touch of that holy hand Brother Leo felt such sweetness of devotion as well-nigh made him to fall fainting to the ground.
St Francis, having completed the Lent of St Michael the Archangel, prepared himself to return with Brother Leo to St Mary of the Angels. and calling to him Brother Masseo and Brother Angelo, and blessing them in the name of Jesus crucified, he suffered them, at their earnest prayer, to see, touch, and kiss his sacred hands adorned with those holy, glorious, and sacred stigmata; and so leaving them in great joy and consolation, he parted and came down from the holy mountain.
Reflect, share, pray. How does this reflection speak to you.