HOLY WEEK note. Some of the reflections during Holy Week are built on the Songs of the Servant of the Lord from the prophet Isaiah which are included in different parts of the liturgy of Holy Week.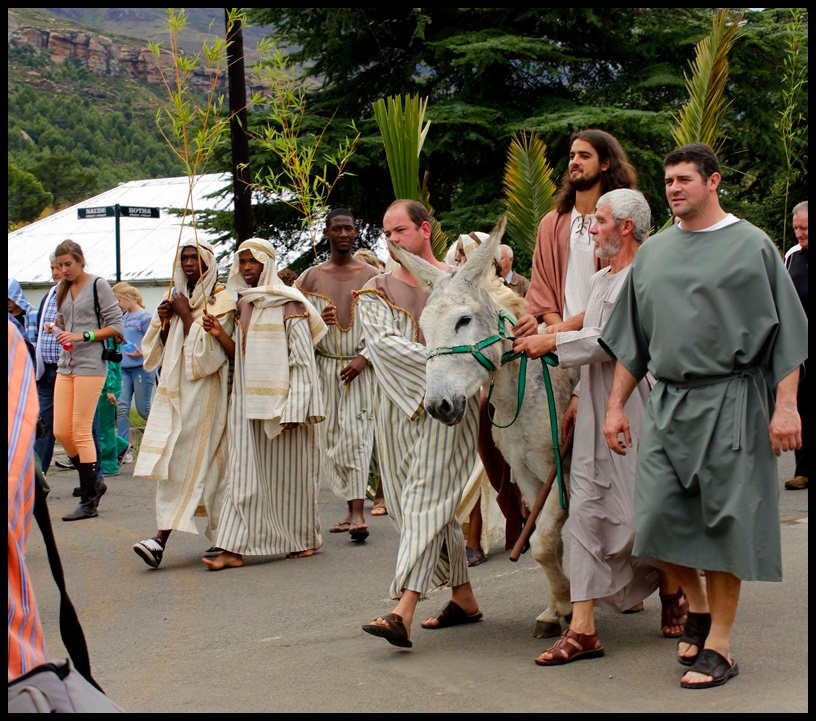 April 2.  Palm Sunday. Bruce, the parish scripture scholar offered to facilitate the reflections for this time. Starting with an extract from one of the Songs of the Servant, he explained that it is not known for whom they were originally composed.  It could have been Israel or a person of the time but in New Testament times they are most often applied to Jesus. For meditation purposes they can also be applied to others like St Francis, who was deeply engrossed in meditating on aspects of the life and the Passion of Jesus Christ at this time.
From the 3rd Song of the Servant of the Lord. The Lord God has given me the tongue of those who are taught, that I may know how to sustain with a word him that is weary. I gave my back to those who struck me and my cheeks to those who pulled out the beard. I hid not my face from shame and spitting for the Lord God helps me. Isaiah 50:4-7
From The Little Flowers of St Francis of Assisi. St Francis and his companions responded to a calling from God to carry the cross of Christ in their hearts, to practise it in their lives, and to preach it by their words. They were truly crucified men both in their actions and in their works. Out of love for Christ they sought after shame and contempt, rather than the honours of the world, the respect and praise of men. They rejoiced to be despised, and were grieved when honoured. Thus they went about the world as pilgrims and strangers, carrying nothing with them but Christ crucified; and because they were of the true Vine, which is Christ, they produced great and good fruits in many souls they gained to God.
In the beginning of the Order, St Francis sent Brother Bernard to Bologna, to accomplish many good works, according to the grace which God had given him. So Brother Bernard, in the name of holy obedience, set out but when he arrived in that city, the little children in the streets, seeing him dressed so strangely and so poorly, laughed and scoffed at him, taking him for a madman. All these trials Brother Bernard accepted for the love of Christ, with great patience and with great joy, and seeking to be despised yet more, he went to the market-place, where, having seated himself, a great number of children and men gathered round him, and taking hold of his hood pushed him here and there, some throwing stones at him and others dust. To all this Brother Bernard submitted in silence, his countenance bearing an expression of holy joy, and for several days he returned to the same spot to receive the same insults.
Now, patience being a work of perfection and a proof of virtue, a learned doctor of the law, seeing such virtue and constancy in Brother Bernard, who had endured such contempt and such injuries without losing his temper, said within himself: "Without doubt this man must be a great saint"; and going up to him, he asked who he was, and whence he came. Brother Bernard put his hand into his bosom, and taking out the Rule of St Francis, gave it to him to read. The doctor, having read the Rule, was struck with wonder and admiration at the sublime perfection described, and turning to his friends, he said: "Truly this is the most perfect state of Religion I have ever heard of, and this man and his companions are the holiest men I have met in all the world; guilty indeed are those who insult him; we ought, on the contrary, to honour him as a true friend of God."
Reflect, share, pray. How does this story speak to you?