FAMILY WEEKELY E-NEWSLETTER 22 MARCH 2023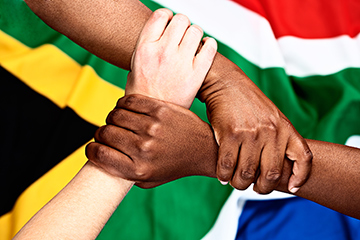 Sandwiched between religious feastdays of Joseph on 19th and Mary on 25th is a South African national commemoration,  Human Rights Day on 21st March.  Should this kind of day not also be a recognized as religious?  It originated as a political protest gone horribly wrong, a commemoration of the 1960 Sharpeville shooting of innocent demonstrators by the police, with 69 dead and more than 200 wounded. It is also ironic that it followed this year on another socio-political protest, a march and call for a national shutdown of the country until grievances have been addressed.  This went off relatively peacefully, but with many people not taking much notice and without great expectations. At the same time the TV News showed us other protests and strikes against governments in other countries for similar reasons, against high cost of living, poor service delivery, ineffective leadership and for higher wages. Such is the state of our world at this time.  Can we say all these are for the common good or for more personal, more individual and selfish reasons? What I want is maybe not what God wants for his world, or the country.  Today's overriding social worldview is individualism.   
The 1948 UN Declaration of Human Rights Article 16 does recognize the family, as a natural and fundamental group unit of society entitled to protection by society and the State. It also recognizes the right to marriage. Locally the 1996 SA Constitution is largely similar. Both use the terminology "everyone" as the individual owner of a range of rights, which can all be grouped under the headings; human dignity, equality and freedom. While excellent overall a reference to family as a fundamental group is not included. Section 28 notes that "every child has the right to family care, or parental care, or to appropriate alternative care when removed from the family environment." A family as a unit has no identified rights.
The 2013 SA WHITE PAPER ON FAMILIES, however, does recognize the family as a unit with priority rights in society. It views the family as "a key developmental imperative and seeks to mainstream family issues into government-wide, policy-making initiatives, to foster positive family well-being and overall socio-economic development in the country. " Enhancing family capabilities, empowering families and their members are among its objectives. Strategic partnerships for delivery of services include families playing an active role. Clearly these objectives are not what is commonly practiced in South Africa where individual rights and those of women and children most often receive priority.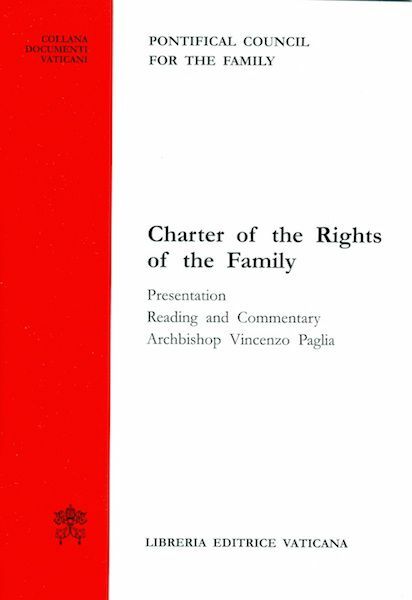 From a Church perspective an early resource was the CHARTER OF THE RIGHTS OF THE FAMILY presented by the newly formed Pontifical Council for the Family in 1983. Addressed to governments, NGOs and to families themselves the introduction "aims at reinforcing among families an awareness of the irreplaceable role and position of the family; it wishes to inspire families to unite in the defence and promotion of their rights; it encourages families to fulfil their duties in such a way that the role of the family will become more clearly appreciated and recognized in today's world." The State and all organisations must support and defend the rights of the family which exists prior to the State and possesses inherent rights.
We can all talk a lot about rights but what are they? A basic summary of the articles from the Church's Charter follows as a helpful resource. The preamble states that the family is based on marriage, between a man and a woman, as a natural institution.
Article 1. The right to the free choice of their state of life, to marry, establish a family or remain single.
Article 2. Marriage can only be contracted by the free and full consent of the spouses.
Article 3. Spouses have the inalienable right to found a family, decide on spacing of births and number of children. This excludes recourse to contraception, sterilization and abortion.
Article 4. Human life must be respected and protected absolutely from the moment of conception. All children have the right to protection by their parents or the State. Natural rights of parents must be protected.
Article 5. Parents have the right to educate their children in conformity with their moral and religious convictions. Society must provide the necessary aid, including education.
Article 6. The family has the right to exist and to progress, as a nuclear family or through the extended family system.
Article 7. Every family has the right to live its own domestic religious life.
Article 8. The family has the right to exercise its social and political function in the construction of society, through associations or other means.
Article 9. Families have the right to rely on an adequate family policy of public authorities in the juridical, economic, social and fiscal domains. They have the right to appropriate economic conditions and to private possessions. Social support in the event of conditions such as death, accident, abandonment, old age and handicaps must be offered as well as care for the elderly at home or in suitable institutions. Rights and necessities of the family and family unity must be taken into consideration in penal legislation and policy to support the detainee in prison and the family.
Article 10. Families have a right to a social and economic order where work permits them to live together or does not hinder their unity and wellbeing. Remuneration must be sufficient for maintaining a family. Work of a mother outside the home should not be to the detriment of family life and work in the home should be recognized and respected.
Article 11. The family has the right to decent housing and services.
Article 12. Families of migrants have the right to the same protection as local families, to respect for their culture and to be reunited. Refugees have the right to assistance from public authorities.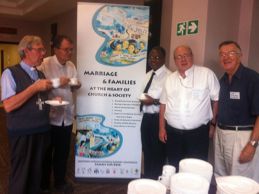 The COMPENDIUM OF CATHOLIC SOCIAL DOCTRINE published 20 years later, in 2004 is much more comprehensive, and updated with many references to other Church documents from the time of Vatican II.  What is stressed is that families "should grow in awareness of being protagonists of family politics and assume responsibility for transforming society." Pope Francis' Amoris Laetitia too, has many newer insights and recognizes the particular challenges facing families today, such as divorce and remarriage, same sex unions and alternative sexual orientations. His frequent pastoral response includes, "who am I to judge?. The faithful do what they can within their limitations." These issues cannot be developed in this short article. The current process of the preparing for the Synod on Synodality is also facing challenges, around women's roles, youth and sexual orientation, but to my mind the greater issues around marriage and family and their spirituality appear not to be receiving the same or adequate attention. However, the awareness of SOCIETY AT THE SERVICE OF THE FAMILY rather than the other way round is a long way from being recognized. Similarly there is no recognition of the family as a key implementer in environmental issues of care of creation.  These are all areas of concern that MARFAM has focused on over the years, currently within the theme OUR WORLD, A FAMILY OF FAMILIES.  Let us invite the Holy Family, St Joseph and Our Lady whose feasts are celebrated at this time to pray for us, for the preservation of families for their own wellbeing and the good of the Church and society.     FAMILY WEEKLY 22 MARCH 2023