Did you know that dark chocolate can actually repair blood vessels?  And that green tea can help reduce inflammation and cut off the blood supply that feeds cancer cells? Also that eating the right foods could reduce the severity of long Covid?
These questions are not part of the LAUDATO SI' Care for our Common Home campaign,  but are part of another, the Food Revolution, a campaign that promotes health and healthy eating.  It is just one of the campaigns that seem to have invaded my inbox, also one on growing your own vegetables.  You'd think that there is no need for anyone to be unhealthy these days but clearly we aren't listening well enough. Are we listening and journeying along with the great Catholic LAUDATO SI campaign under way from 22-29 May? It addresses our health but on a bigger scale the health of our earth and the care of our earth. Like with our own bodies it addresses much of the harm that has been done in recent times.  In his social justice encyclical LAUDATO SI, Pope Francis returns to the philosophy of St Francis of Assisi, the 12th century saint, today the patron of ecology, who inspired by his love of God, was led to love all of creation and in a special way the poor, the sick and the marginalized.  His Canticle of the Creatures, with Brother Sun, Sister Moon etc praising the Creator.  
The current LAUDATO SI WEEK campaign seeks to mobilise Catholics, and others, around the world to become activists in addressing the harm to creation through abuse and exploitation of nature's resources in the last quarter millennium, the era of the Industrial Revolution. It is, however, only in the last quarter century that humankind has become seriously aware of this and the related loss of biodiversity with vast numbers of creatures facing extinction. Figuring out the ways and means to respond have now become one of the greatest challenges facing every nation and individual. Some responses can only be by government and big industry e.g. cutting fossil fuel emissions, but much can and should be done by individuals in their families where we live our daily lives, interact, eat and sleep and go out into the workplace, schools and place of leisure, places where we exert some influence.
Laudato Si week organisers, using the encyclical have adopted the seven identified LS Action Platform goals to address ecological issues in a fairly structured way, over the 7 days from practical, social, educational, spiritual and economic perspectives. 1. The cry of the earth. 2 The cry of the poor, 3. Ecological economics, 4. Sustainable living. 5. Ecological education. 6. Ecological spirituality. 7. Community participation. There are official events, workshops, webinars, prayer services and many eco-focused side events arranged all over the world. Tree plantings, clean-ups, prayer walks, advocacy groups, marches, and celebrations are advertised and promoted on digital platforms and social media. www.laudatosiweek.org These also address issues such as deforestation in the Amazon and impact on indigenous people, the East African Oil pipe line, fossil fuel divestment and renewable energy options.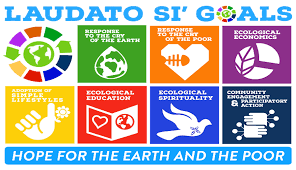 While COP27 on climate change and COP15 on biodiversity are international conferences with vast financial implications, we on the ground can do our bit, measure our own carbon footprint and aim for simple and sustainable lifestyles taking the common good into consideration. It is my view and I believe it can be said that the catechism for today is not the old penny catechism or even the official Catechism of the Catholic Church but the documents of recent popes, especially Pope Francis, that bring God's plan for all life and creation to life in the world of today. A world that I describe as Our World, a Family of Families. MARFAM'S contributions to this goal are mainly digital, in the area of ecological spirituality and education.
Families and Food is one topic that concerns everyone. Is our South African diet healthy enough? Overall no. Are our people overweight or obese? Far too many. What changes could or should we make? The SA Food Guide diagram gives a visual indication of the optimum diet and quantities in each group. Latest FOOD-BASED DIETARY GUIDELINES 2013 provide useful information for the varied South African population. It asserts "If used correctly, FBDGs can be a powerful tool for addressing nutrition related public health problems in South Africa." https://www.fao.org/nutrition/education/food-dietary-guidelines/regions/countries/south-africa/
Clearly a plant-based diet, especially green leafy plants, also beans and legumes and fruit are best. We should eat less meat, especially red meat. Cut sweet and sugary items, processed foods and of course fast food take-aways. A large proportion of our population are poor and can only do their best to provide a balanced meal for their families, possibly with the help of food parcels. However the diet of the not so poor young and old leaves much to be desired. It is often a question of time and convenience rather than money that dictates what we eat.
One of our Laudato Si week resolutions can concern the nutritional health of the nation.  Every family and its members, parents and children too, need to take personal responsibility in this regard. And I'm happy to admit that a dark chocolate slab is apparently not a luxury for me, although I doubt if my cardiologist would agree.    TR FAMILY WEEKLY 25 MAY 2022