MARFAM 2023. "OUR WORLD, A FAMILY OF FAMILIES"        
DAILY THOUGHTS JUNE THEME: CHILDREN BELONG IN FAMILIES
DAILY THOUGHTS on www.marfam.org.za, facebook and twitter. Request email to [email protected].  
Abbreviations:  Pope Francis:LS = Laudato Si. AL = Amoris Laetitia.   FT = Fratelli Tutti.    EG = Evangelii Gaudium.    CV = Christus Vivit – Pope Francis letter to youth.                                                                     —————————————————————————————————————————-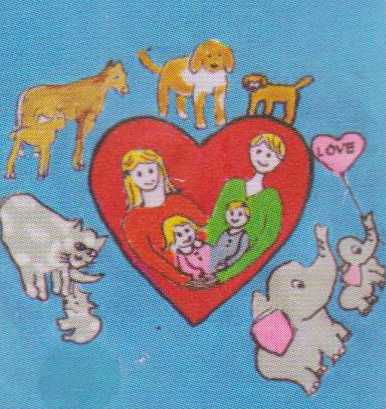 Overview: JUNE. Children belong in Families. Birth, childhood and growth in adolescence are the most vibrant stages in all of creation, human, animal and plant. Growth and regrowth can often be stressful and conflict-filled. However, ideally in any family, the young need conscious protection, love, care and support to monitor and direct their youthful energy towards full and responsible maturity. Pope Francis: It is true that the difficulties the youth experience in their own family can lead the young to ask whether it is worthwhile to start a new family, to be faithful, to be generous. I say that it is worth your every effort to invest in the family, there you will find the best incentives to mature and the greatest joys to experience and share. Christus Vivit 263.
Setting the scene. Encouraging family communication is one of the tasks of evangelisation in and through families. Parish programme organisers were making an effort to promote this through various activities and also using Pope Francis' letter to the youth particularly on vocation as well as beginning to focus on the upcoming Synod on Synodality. Pope Francis: A vocation is a call to missionary service to others. The Lord calls us to share in his work of creation and to contribute to the common good, using the gifts we have received. CV 248, 253 From the Synod on Synodality. The family stands at the intersection of the Church and the world with the task of familiarizing humanity, of "'domesticating' the world" with the power of love. (AL 183). Building the Church by looking at the family opens the Church to new ways of living communion, participation and mission.
Eco-spirituality. "Nature herself has imprinted on the minds of all the idea of God." Cicero
June 1. UN Global Day of Parents. "Was Jesus ever angry?" Jenny asked her children. "No, he was perfect," one said, "But what about when he chased the sellers in the temple grounds away?" "He was angry because they were cheating the people and shouldn't have a shop inside a temple anyway." Jenny reminded them that being a parent is preparing children for life. "Of course we love you but that doesn't mean we can't be angry at times. Parenting is in a way being like God, we love you and want what is best for you. At the same time if we have been unfair or wrong we should be willing to say sorry and ask forgiveness. That is one of the most valuable things we parents can teach you kids." The UN writes, "This day provides an opportunity to appreciate all parents in all parts of the world, regardless of nationality, race, religion or culture, for their selfless commitment to children and their lifelong sacrifice towards nurturing this relationship." Buhle added, "I wonder how animal families deal with teaching their young and if they sometimes have conflict between the generations. I'd like to study that more."
Reflect, share, act. Scripture: The sun looks down on everything with its light and the work of the Lord is full of his glory. the Lord, the Almighty searches out the abyss and the hearts of men, and considers their crafty devices. For the Most High knows all that may be known and he looks into the signs of the age. Sirach 42:15-25. Pope Francis: Father and mother both cooperate with the love of God the creator and are in a certain sense his interpreters. Together they teach the value of reciprocity, of respect for differences and of being able to give and take. If for some inevitable reason one parent should be lacking, it is important to compensate for this loss, for the sake of the child's healthy growth to maturity. AL 172.
June 2. More and more black families are moving into urban areas and do bring some of their traditions, beliefs and practices with them, although the children, especially, become quite westernised through their schooling. Grandparents do still have a special place and the importance of their ancestors is something that is still preserved in homes, for the present. But who knows what the next generation will do to these cultural beliefs.
Reflect, share, act. Scripture: Let us now praise famous men and our fathers in their generations. These were men of mercy whose righteous deeds have not been forgotten, their prosperity will remain with their descendants and their inheritance to their children's children. Sirach 44:1-13. Pope Francis: Often grandparents are a crucial aid in affection and religious education. With their wisdom they are a vital link in the relationship between generations. CV 262.
June 3. Ugandan Martyrs. St Charles Lwanga. There were some Ugandan children in the catechism class and they knew all about the story of the 22 Ugandan martyrs. They shared some of the horrific and cruel ways in which they died in the 1880s at the command of the king. Some were young boys, like St Kizito the youngest of the martyrs was only 13 and passionate about his faith. One was ruler's own son and others were officials at the court who disagreed with the king and protected some of the young pages from his homosexual demands. This allowed deacon Samuel to open the subject of sexual orientation with the class too. Young people are having to face this challenge and be helped to understand their genuine developing gender identity without just exploring what is considered fashionable.
Reflect, share, act. Scripture: Neither death, nor life, nor angels, nor principalities, nor things present, nor things to come, not anything else in all creation will be able to separate us from the love of God in Christ Jesus our Lord. Rom 8:39 Pope Francis: To respond to our vocation we need to foster and develop all that we are. This has nothing to do with inventing ourselves or creating ourselves out of nothing. It has to do with finding out true selves in the light of God and letting our lives flourish and bear fruit. CV 257.
June 4. Trinity Sunday A. While Trinity Sunday is really about God, Father, Son and Holy Spirit Fr Fidelis reminded the people that God is also a family, a community of infinite love of three persons. "Maybe you all, in your families, could put up this greeting of Paul in the 2nd reading as a reminder and greet one another as he suggests acknowledging the sanctity of family life as a special gift from God the Creator. Greet one another with a holy kiss.
Reflect, share, act. Scripture: "Brethren, rejoice. Mend your ways, heed my appeal, agree with one another, live in peace and the God of love and peace will be with you. Greet one another with a holy kiss. All the saints greet you. The grace of the Lord Jesus Christ, and the love of God and the fellowship of the Holy Spirit be with you all. 2 Cor 13:11-13. Pope Francis: Marriage is the icon of God's love for us. God is also communion: the three persons of the Father, the Son and the Holy Spirit live eternally in perfect unity. This is precisely the mystery of marriage: God makes of the two spouse one single existence. AL 121. For Christians, believing in one God who is trinitarian communion suggests that the Trinity has left its mark on all creation. The divine persons are subsistent relations and the world created according to the divine model is a web of relationships. LS 239-240..
June 5. World Environment Day. There was a young adult group amongst the altar servers who used to meet on a Sunday evening with the parish deacon. Even though he was already quite elderly he had worked with this group for many years and they enjoyed the way he interacted with them. As he said, "I learnt from my own kids over the years. It doesn't help to preach and that's hard for me of course, but I would love to listen and hear your views too. This week I invite you to read the stories from the book of Tobit, which is one of those only found in the Catholic bible. I think they have quite a lot to tell us about family life and I'd also like to focus on ecology or the environment. Nature can be cruel and self-serving but then also how do different parts of nature complement each other, provide for one another in an endless cycle or food chain? Dare we disrupt this natural progression?
Reflect, share, act. Scripture:. A good dinner was prepared for me and I sat down to eat. Upon seeing the abundance of food I said to my son, "go and bring whatever poor man of our brethren you may find among the exiles in Nineveh who is mindful of the Lord and he shall eat together with me. Tobit 2:1-8. Pope Francis: Greater investment needs to be made in research aimed at understanding more fully the functioning of ecosystems. Because all creatures are connected each must be cherished with love and respect for all of us as living creatures are dependent on one another. Each area is responsible for the care of this family. LS 42
June 6. June 6. When Ephraim read the story of how Tobit became blind and had to be cared for he felt quite sad. A picture of the young people standing to support the blind beggars at street corners around the suburbs came to mind. He'd been asked once to stand with a blind person and had refused. When his granny started losing her eyesight and eventually became blind he had a niggling feeling that this was a punishment for him, so he volunteered to spend time with her and actually started enjoying the relationship they were building as he came and visited and read to her each week.
Reflect, share, act. Scripture: For four years I was unable to see. All my kindred were sorry for me and Abilcar took care of me for two years until he went to Elymais. Tobit 2:9-14.Pope Francis. The larger family should provide love and support to teenage mothers, children without parents, single mothers, persons with disabilities needing particular affection and closeness, young people struggling with addiction, the unmarried, separated or widowed who are alone and the elderly and infirm who lack the support of their children. It should embrace even those who have made a shipwreck of their lives. AL 197.
June 7. Sarah was a pretty but shy 15 yearold. She had few friends and usually kept to herself. When trying to become more outgoing she decided to attend a class party. Little did she know what was in store for her. Her drink was spiked with a drug and she completely lost all knowledge of what happened next. It was only at school the next week that she discovered that some boys had taken her and photographed her naked body in all kinds of obscene positions and were circulating these. Of course she was absolutely horrified. She realised that the only blessing was that she had not been raped. She couldn't confide in anyone at school, didn't have any siblings to talk to, but went home in a state of panic and even contemplated committing suicide. Fortunately when her mom came home she was able to extract the story, comfort her and take the necessary steps to report the case.
Reflect, share, act. Scripture: When Sarah had gone up to her father's upper room, she intended to hang herself. But she thought it over and said, "Never shall they reproach my father, saying to him, 'You only had one beloved daughter but she hanged herself because of her distress.'" Tobit Chapter 3. Pope Francis : At times the hurt felt by some young people is heart-rending, a pain too deep for words. They can only tell God how much they are suffering and how hard it is for them to keep going, since they no longer believe in any one. Yet in that sorrowful plea, the words of Jesus make themselves heard,. "Blessed are those who mourn, for they shall be comforted." May all young people who are suffering feel the closeness of a Christian community that can reflect those words by its actions, its embrace and its concrete help. CV 77.
June 8. Deacon Samuel said,"Now I want to ask you as young adults a question. I presume that you do sometimes think of marriage and not only of work, but what do you think of arranged marriages? Do you know of any or do you think your parents are setting you up? In my family in the olden days our parents did make arrangements with other families, who they thought would benefit their families rather than the young people themselves." "I know about that too. My dad even says, 'you should love the one you marry, not marry the one you love.' Maybe I should ask him why he says that." Deacon Samuel encouraged them all to read the whole story in Tobit so they could discuss it at their next time together. "It's a really exciting story with a twist that you will find interesting."
Reflect, share, act. Scripture: "We must stay the night in the home of Raguel. He is your relative and he has a daughter named Sarah. He has no male heir and you as next of kin to her have before all other men a hereditary claim on her. Also it is right for you to inherit her father's possessions. Moreover, the girl is sensible, brave and very beautiful and her father is a good man." Tobit chapter 6. Pope Francis. Some societies still maintain the practice of polygamy or in other places arranged marriages are an enduring practice. Surely it is right to reject older forms of the traditional family marked by authoritarianism and even violence, yet this should not lead to a criticism but a rediscovery of the authentic meaning of marriage. AL 53
June 9. Ephraim wasn't the only one with a story to tell about caring for a blind person. Beauty was in 3rd year medical school studying ophthalmology but still enjoyed coming to the young adult group. She had been an altar server, a catechist for the little ones, but during her last years at school had felt a calling to study medicine. "Not only religious life is a vocation," she shared. "It was when I was doing practical work in remote villages that I saw many cases of glaucoma, an eye disease that could be treated and even prevented. Some of those old people are left on their own, some are living with family, but I was impressed by one little girl of 14 who was living with her granny and looking after her. She is really the old lady's life-saver. That's what influenced my course of study."
Reflect, share, act. Scripture: Take courage father." With this he applied the medicine on his eyes. Next with both his hands he peeled off the while films from the corners of his eyes. Then he saw his son and embraced him and he wept and said, "Here I see my son, the light of my eyes!" Tobit 11:5-15. Pope Francis: Anyone called to be a parent, pastor or guide to young people must have the far-sightedness to appreciate the little flame that continues to burn, the fragile reed that is shaken but not broken. The ability to discern pathways where others only see walls. To recognise potential where others see only peril. That is how God the Father sees things, he knows how to cherish and nurture the seeds of goodness sown in the hearts of the young. CV 67
June 10. While they prepared for their weekly meeting the young adults shared some of their thoughts on the story of Tobit and Anna, Tobias and Sarah and the archangel Raphael. "What I liked best was how human the whole situation was. An old couple arguing, a young man being led into an arranged marriage…." "and how God was present to that family through all this." "I hope that when I find the right man, we will be able to pray together too. I wonder how many of our parents pray before they have sex." Did the group laugh with embarrassment or amazement at that comment, or what do you think?
Reflect, share, act. Scripture:. "When you and your daughter-in-law Sarah prayed I brought a reminder of your prayer before the Holy One, and when you buried the dead I was likewise present with you. I am Raphael, one of the seven holy angels who present the prayers of the saints and enter into the presence of the glory of the Lord. Write in a book everything that has happened to you." Tobit 12. Pope Francis: There is a truly marvellous design in the Sacrament of Matrimony and it unfolds in the simplicity and frailty of the human condition. When the husband prays for his wife and the wife prays for her husband that bond becomes strong, one praying for the other. General Audience.
June 11. Feast of the Body and Blood of Christ. A. Fr Fidelis took a very serious line. He began, "This is one of the most important feasts in the Church because it teaches us about the real presence of Jesus in the Eucharist in the bread and the wine. I ask you whether your really do believe that as Catholics, or whether it is something you don't really think about and take for granted? As a priest it is something that challenges me too. It helps me to remind myself that God is also present in the sacramental love relationship of marriage, which we should reverence much more than we do, as we should too with parental relationships. In fact God is present everywhere in Creation too, in so many different ways and appearances. This month is Youth month and we also celebrate Father's Day next week so now I especially call on fathers to value and worship Jesus in the Eucharist. Teach your children and do not desecrate it by unbecoming behaviour. Did you know that to strengthen people's faith there have been recognised miracles of the bread and wine physically being changed in appearance to human flesh and blood. Science has confirmed what we have believed in Faith and what the Catholic Church has taught for the last 2,000 years; echoing the words of Christ, So do think about and worship and thank Jesus for this gift to us, the Church."
Reflect, share, act. Scripture: My Flesh is real food; my Blood real drink. Whoever eats My Flesh and drinks My Blood dwells continually in Me and I dwell in him." John 6:56-57 Pope Francis: A family's living space could turn into a domestic church, a setting for the Eucharist, the presence of Christ seated at the table. AL 15. God himself became man and gave himself as food for his creatures. The Eucharist joins heaven and earth; it embraces and penetrates all creation. The world which came forth from God's hands returns to him in blessed and undivided adoration. LS 236..
June 12. Deacon Samuel had organised a session to prepare for Youth Day and for Father's day so that it was possible to bring parents and youth together. With the youth they had chosen which of the beatitudes to focus on. He was intrigued when they suggested, "Blessed are the peacemakers for they shall be called sons of God." At the session they had first separated the adults and the youth to share on the theme and later brought them together to listen to one another. At the end he invited them to continue the sharing at home. "Wow, I am pleased that the door was opened for us like this," Portia commented later, "I wouldn't have dared to say what I wanted to about peace in our home." "It is really important for families to be able to communicate but difficult too. I'm glad it helped a little." That was the general view and they genuinely wanted to continue the communication. Deacon Samuel prayed, "Thanks be to God!"
Reflect, share, act. Scripture: Seeing the crowds Jesus went up on the mountain, sat down and began to teach them. Blessed are the peacemakers for they shall be called sons of God. Matt 5:1-12. Pope Francis: We are far from the so-called "end of history" since the conditions for a sustainable and peaceful development have not yet been adequately articulated and realised. EG 59. Each one of us is called to be an artisan of peace, by uniting and not dividing, by extinguishing hatred and not holding on to it, by opening paths of dialogue and not by constructing new walls. FT 284.
June 13. St Anthony of Padua. "Giving names to children when they are born is a very cultural thing. Some families choose names of relatives, some choose an arbitrary name that sounds nice. In other cultures the name has significance related to the time of the birth. At baptism the Church does expect a Christian, saint's name. Over the years children might explore who their name saint is. That was what Sibusiso Anthony did and became fascinated by St Anthony of Padua. ""St. Anthony, please look around; something is lost and must be found." That little prayer seems to come from an incident when St Anthony himself prayed intensely for an important book he was using to be returned. Already as a young boy he was drawn to the religious life and when he discovered the new Franciscan way around 1220 he wanted to be a missionary. His health was not good enough for that. He was shipwrecked, landed n Italy and worked as a humble brother doing manual work until by chance he was told to preach at an ordination. His wonderful gift for preaching and his knowledge as a teacher were discovered and that became his way of life. Many people were converted, turned from their sins and were reconciled with one another through him. He was once discovered miraculously holding the baby Jesus and is most often portrayed like that because of his intense love for Jesus which can be a real model for all those called Anthony and Antonette and others too who might choose him for a Confirmation saint.
Reflect, share, act. Scripture:. The lord sent out seventy others, two by two. and he said to them, "the harvest is plentiful but the labourers are few." Luke 10:1-9. Pope Francis: Social love as a reflection of the Trinity is what truly unifies the spiritual meaning of the family and its mission to others. Al 324. Christ is alive. He is our hope and in a wonderful way he brings youth to our world and everything he touches becomes young, new, full of life. He is in you, he is with you and he never abandons you. However far you may wander he is always there. He calls you and he waits for you to return to him and start over again. CV 1-2
June 14. "If Moses was living in the 21st century what kind of laws would God be giving him?" It seemed a good idea to get the topic of law and obeying laws and rules onto the table in preparation for Youth Day. Is there a difference between rules and laws other than the degree of punishment? Deacon Samuel told them to discuss at home: "if you were to change roles as parents and children would there be different rules in the house, about chores, drinking, drugs, going out and coming home times etc.?" So together they all formulated a number of questions that could be discussed for Youth Day and the workshop to be addressed by one of the parents who was also a prosecutor in the High Court.
Reflect, share, act. Scripture: "Do not think that I have come to abolish the law or the prophets. I have come not to abolish but to fulfil. Whoever obeys and teaches these commandments will be called greatest in the kingdom of heaven. Matt 5:17-20. Pope Francis. It is essential to help children and adolescents to realise that misbehaviour has consequence. They need to be encouraged to put themselves in other people's shoes and to acknowledge the hurt they have caused. As the educational process bears fruit in the growth of personal freedom, children come to appreciate that it was good to grow up in a family and even to put up with the demands that every process of formation makes. AL 268
June 15. Basil, Zola and Mary had never known their father. When their mother became ill and died when little Mary was just 8 years old and Basil just 17 the children felt very lost. Their aunt who lived nearby took over some of the parenting but much of the time Basil found himself being the head of their little family. At first they were close but as time went by he found it was more and more difficult to control Zola who had been a good student but got mixed up with bad friends and started bunking school. They drank and smoked and walked the streets until late at night. Like a real father Basil became very angry with his brother and there were times when the boys fought. Basil knew this was not right but felt helpless so he decided to ask their priest to help him cope.
Reflect, share, act. Scripture:. If you are offering your gift at the altar and there remember that your brother has something against you, leave your gift there before the altar and go, first be reconciled to your brother and then come and offer your gift. Matthew 5:20-26. Pope Francis: "Put on Christ, in your life and you will find a friend in whom you can always trust. "Put on faith" and life will take on a new flavour. "Put on hope" and every one of your days will be enlightened and your horizon will no longer be dark but bright. "Put on Love" and your life will be like a house built on rock. WYD 2013.
June 16. Youth Day SA. The catechist posed a very difficult question to the young people. "This day is a holiday in South Africa, nearly 50 years after the events in Soweto in 1976 when young people took over from their parents and stood up for their rights, beginning the struggle against an unjust educational system. The relationship between youth and parents is often a difficult one, with both willing to do what is best but not always seeing eye to eye. Sex is a big issue in the lives of many young people. Their parents and educators do teach them right and wrong, but many nevertheless believe they have the freedom and right to choose and are often irresponsible about the possible consequences of unprotected sex. This is taking the words of Jesus in today's gospel further into our present-day context.
Reflect, share, act. Scripture:. Jesus said, " I say to you that everyone who looks at a woman lustfully has already committed adultery with her in his heart." How does this really apply to young people? Is lust a sin against God's invitation to chastity and even modesty? Pope Francis. " Sex education can only be seen within the broader framework of an education for love, for mutual self-giving. it is not helpful to overwhelm young people with data without also helping them to develop a critical sense in dealing with the onslaught of new ideas, the flood of pornography and the overload of stimuli that can deform sexuality. AL 280-1
June 17. At the youth group after the tough message of Youth Day a powerful and positive talk on youth sexuality and its spirituality was given by a Theology of the Body team. A number of the youth asked to go on a Love Matters programme too that they had heard about. "Spending a weekend like that will help to confirm us in our beliefs and our hopes and dreams," Jane said.
Reflect, share, act. Scripture:. On behalf of Christ be reconciled to God. For our sake he made him to be sin who knew no sin, so that in him we might become the righteousness God. 2 Corinthians 5:14-21. Pope Francis: Young people need to have their freedom respected, yet they also need to be accompanied. The family should be the first place of accompaniment. Youth ministry can present the ideal of life in Christ as the process of building a house on rock. For most young that house, their life, will be built on marriage and married love in future. That is why youth ministry and the pastoral care of families should be coordinated and integrated with the aim of ensuring a continuous and suitable accompaniment of the vocational process. CV 242
June 18. 11th Sunday Fathers Day. When the youth were preparing for Father's Day Deacon Samuel shared the passage from Pope Francis in Amoris Laetitia with them. They reflected and shared some of their joys and their pain about present, absent, abusive , loving and supportive fathers. In the end they decided, "Let's use the whole passage to give that wonderful message to our dads" Pope Francis: God sets the father in the family to be close to his wife and share everything, joy and sorrow, hope and hardship. And to be close to his children as they grow – when they play and when they work, when they are carefree and when they are distressed, when they are talkative and when they are silent, when they are daring and when they are afraid, whey they stray and when they get back on the right path. To be a father who is always present I do not mean controlling. Fathers who are too controlling, overshadow their children, they don't let them develop. Some fathers feel they are useless or unnecessary, but the fact is that child need to find a father waiting for them when they return home with their problems. They may try hard not to admit it, not to show it, but they it need it. It is not good for children to lack a father and to grow up before they are ready. AL 177. Andrew said. "I want to say a big thank you to Pope Francis, for that."
Reflect, share, act. Scripture: If you will obey my voice and keep my covenant, you shall be my own possession among all peoples, for all the earth is mine. Ex 19:2-6
June 19. Maysie was discussing the issue of bullying and fights at school with her mother. "I find that a really hard thing to respond to. I always wish I had the courage to fight back. And then in confirmation class we were studying the beatitudes and that really made we wonder, why did Jesus make such difficult statements, like "love your enemies." Surely if someone hurts me, I've got a right to defend myself or fight back?"
Reflect, share, act. Scripture:. "An eye for an eye and a tooth for a tooth. I say "Do not resist one who is evil. If anyone strikes you on the right cheek turn to him the other also and if anyone would sue you and take your coat, let him have your cloak as well." Matt 5:38-42. Pope Francis: if a criminal has harmed me or a loved one, no one can forbid me from demanding justice and ensuring that this person will not harm me or others again. This is entirely just, forgiveness does not forbid it but actually demands. The important thing is not to fuel anger, which is unhealthy for our own soul and the soul of our people, or to become obsessed with taking revenge and destroying the other. FT 241-2
June 20. UN World Refugee Day. The subject of migrants and refugees comes up in discussion almost constantly today for a whole lot of reasons, many practical ones, like finances, work, where to stay and where to go for help. Josh shared with the others in his confirmation group. "Those are very real worries that we all have, young and older refugees. But I find that what worries me a lot is my sense of identity, who am I, where do I belong? At school I am a stranger and many other young people are often not very welcoming. I often cry when I am in bed at night, for the things I have lost, my home and most of my family. My mom does understand but I know very well that she has her own problems too. I must say that our church refugee community has been the most helpful." The group listened attentively and resolved to do their best to do what Pope Francis advised. "to welcome, to protect, to promote, to integrate." They also agreed, "This World Refugee Day let us keep in mind especially those people whose lives are in danger because of their faith and the religion they belong to."
Reflect, share, act. Scripture: the grace of God has been shown in the churches of Macedonia. In a severe test of affliction, their abundance of joy and their extreme poverty have overflowed in a wealth of generosity on their part. They gave according to their means, and beyond their means, of their own free will, begging us for the favour of taking part in the relief of the saints. 2 Cor 8:1-9. Pope Francis: Young migrants experience separation from their place of origin and often a cultural and religious uprooting as well. Fragmentation is also felt by the communities they leave behind which lose their most vigorous and enterprising elements and by families, especially when one or both of the parents migrates, leaving children in the country of origin. For the communities to which they come migrants bring an opportunity for enrichment and the integral human development of all. CV93.
June 21. "Now girls, no showing off any more." The boys teased the girls mostly about how they looked but the girls got their own back by challenging the guys on how they acted. "Remember that ex-singer Jub Jub, he was a real show-off and where did that get him, jail for killing innocent schoolchildren with his street drag racing in 2010. I read that he was released from prison in 2017 on parole, vowed to turn his life around and is active again in the music industry." "Showing off happens in church too. Some people go to show how holy they are, or even to dress up and impress, but are they really spiritual? Let's take this seriously because it also concerns a reward in heaven."
Reflect, share, act. Scripture: Beware of practising your piety before men in order to be seen by them. For then you will have no reward from your Father who is in heaven Matt 6:1-6. Pope Francis: Dare to be more, because who you are is more important than any possessions. What good are possessions or appearances? You can become what God your Creator knows you are, if only you realise that you are called to something greater. Ask the help of the Holy Spirit and confidently aim for the great goal of holiness. In this way, you will not be a photocopy. You will be fully yourself. CV 107
June 22. "This is becoming one of my pet hates," Georgina declared, "empty phrases, words that have lost their meaning. We seem to just babble on. I think we've fallen into the same trap that Jesus warned us about. It does worry me but when my friends from the Pentecostal church pray they seem to talk about real things." "I have discovered that if I slow down and think about the phrases they're not nearly as empty as all that, but I can apply them to my situation. But the one about forgiving others is one that catches me when I do think more about it." "I think praying is a learning curve. Pope Francis also tells us to speak to Jesus as a friend, about what is real in our lives."
Reflect, share, act. Scripture:. When you pray do not heap up empty phrases as the Gentiles do for they think they will be heard for their many words. Say 'Our Father………….' Matthew 6:7-15. Pope Francis. Prayer in the family, how is that done? After all prayer is something personal. But it is also a matter of humility, of realizing that we need God, like the tax collector. And all families need God. We need his help, his strength, his blessing, his mercy, his forgiveness. And we need simplicity to pray as a family. Praying the "Our Father" together around the table is not something extraordinary. Also praying for one another. That is what it means to pray in the family and it is what makes the family strong. From homily on Family Day 2013
June 23. Sacred Heart. The parents in the Sacred Heart sodality discussed. "I think that devotion to the Sacred Heart is an earlier form of the Divine Mercy devotion. It is essentially about Jesus' love, but also about his heart that was hurting as we see in the image of the heart crowned with thorns. I can seriously relate to that and I don't forget to say my morning offering, and taught it to my children as well. I think more young people or families hould join the Sacred Heart sodality too. The Divine Mercy devotion has a different dimension. It is about the love of God flowing forth as mercy."
Reflect, share, act. Scripture:. I thank you Father that you have hidden these things from the wise and understanding and revealed them to infants. Learn from me, for I am gentle and lowly in heart, and you will find rest for your souls. For my yoke is easy and my burden light. Matt 11:25-30. Pope Francis: The various expressions of popular piety are a treasure of spirituality for many families. AL318
June 24. Birth of John the Baptist "JB is one of my favourite saints," Alan said, "He was a specially chosen person, to begin a new era in salvation history as we heard in Luke's gospel and his birth was quite unusual as his mother was past child-bearing age. We know little more about him until he reappears years later. But he responded to what he knew he was called to do. Why are so many of our young people so wishy-washy with little sense of direction? Do they need strong parental guidance, teachers or mentors to inspire them? Where does a sense of direction and hope for the future come from?" "JB was a prophet like the Old Testament prophets preaching repentance and right behaviour. I wish God would speak to me and give me a sense of direction for my future."
Reflect, share, act. Scripture:. He will turn many of the sons of Israel to the Lord their God and he will go before him in the spirit and power of Elijah to turn the hearts of the fathers to the children. Luke 1:16-17. Pope Francis: A spirituality which forgets God as al-powerful and Creator is not acceptable. That is how we end up worshipping earthly powers or ourselves usurping the place of God even to the point of claiming an unlimited right to trample his creation underfoot. LS 75
June 25. 12th Sunday. Fr Fidelis preached especially to the youth, as so many of whom seemed to see Confirmation as a church-leaving certificate. "Have you had a genuine encounter with Jesus as Pope Francis so often speaks about? Have you experienced his love, his healing and his comfort in times of difficulty? Are you afraid to stand up and be counted because of something in your life? But most of all have you invited Jesus to be your friend?" Many of the confirmation group from three years earlier had remained close and Pauline reflected how that had helped her a lot in the tough years of finishing school and moving into the adult world. "They, even more than my parents, were my spiritual counsellors."
Reflect, share, act. Scripture:. Everyone who acknowledges me before men I also acknowledge before my Father who is in heaven, but whoever denies me before men, I also will deny before my Father in heaven. Matt 10:26-33. Pope Francis: to youth: There are times when all our youthful energy, dreams and enthusiasm can flag because we are tempted to dwell on ourselves and our problems, our hurt feelings and grievances. Don't let this happen to you. You will grow old before your time. The years of youth need to be marked by shared ideals, hopes and dreams; get horizons that we can contemplate together. CV 166
June 26.. Deacon Samuel started a challenging discussion with the confirmation group and their parents at a combined session he had set up. "Does the fact that there are so many protests around problems in education mean that we are judging whoever is responsible and do we have right to do that?" "Yes, of course" came back many answers. "OK now take that into your families. Young people do you "protest" about things at home? Parents do you "protest" from your own perspective?" That could have led to some tough issues but Mme Ndlovu was able to pull it together. "There is a difference between judging and critically addressing rights and how it is done is also important. It might be a fine line but as we grow into adulthood it is one that we need to learn to follow."
Reflect, share, act. Scripture: "Judge not, that you be not judged. For with the judgement you pronounce you will be judged and the measure you give will be the measure you get. Matt 7:1-5. Pope Francis to youth: The 4th commandment contains something divine, something which lies at the root of every other type of respect among men. The virtuous bond between the generations, of parents and children is the guarantee of the future and of human history. A society with children who do not honour parents is a society without honour. General Audience February 2015,
June 27. "Is bullying more of an issue in high school or in the younger years?" Mrs Petzer asked her teenage children. Some responded, "It takes different forms at different ages and can also be more psychologically subtle as kids grow older. I didn't ever tell you much about it, but in grade 10 there was another girl who told stories about me that weren't even true. That is also bullying and was jolly hurtful because it affected how others treated me." "Bullying is real cruelty at any age and says much about the bully. Is the answer for someone stronger than him – or her – to do the same to them or is there another way?"
Reflect, share, act. Scripture: Do not throw your pearls before swine. Whatever you wish that men would do to you, do so to them. Matt 7:12. Pope Francis: When God sent the prophet Jeremiah he gave him the power to "pluck up and to break down, to destroy and to overthrow, to build and to plant." It is the same for you. Bringing the Gospel is bringing God's power to pluck up and break down evil and violence, to destroy and overthrow the barriers of selfishness, intolerance and hatred so as to build a new world. World Youth Day Rio 2013
June 28. Fr Fidelis and the family coordinator set aside time to discuss with the youth the issue of teenage pregnancy. "Why are there so many young girls with babies in our churches? Is this good? Is this a free choice? Is there a false prophet out there somewhere that makes this out to be a good thing? Is this called peer pressure?" They wanted the girls and the boys to have their say and listened carefully to search for a way forward.
Reflect, share, act. Scripture: "Beware of false prophets who come to you in sheep's clothing but inwardly are ravening wolves. You will know them by their fruits." Pope Francis: Young people are aware that the body and sexuality have an essential importance for their lives and their process of growth in identity. In a world that constantly exalts sexuality maintaining a healthy relationship with one's body and other relationships is not easy. We can forget that life is a gift and that we are creatures with innate limits, open to exploitation by those who wield power, even technological power. CV 81-82
June 29. Sts Peter and Paul. The RCIA catechist shared some thoughts, "It is interesting that we celebrate the feasts of Sts Peter and Paul together when they hardly met. Paul tells us they spent 15 days together on his first visit to find out first hand about Peter's knowledge of Jesus. Their second meeting some years later at a council meeting was because of an internal dispute about rules and laws for Jews and for Gentiles to become Christians. Peter preached to the Jews and Paul to other peoples in the countries he visited. How do we as senior and junior members in our families deal with conflict and disputes? Does the senior member win the battle? Do we have "councils" and should we?" Natalie, the "eco-nut" in the group voiced her thoughts. "In my learning about animal family interactions one does come across this problem of upcoming young males challenging the authority of the old leader. Sometimes it's the females who make the choice."
Reflect, share, act. Scripture: Paul writes," I went up to Jerusalem to visit Cephas and remained with him fifteen days." Gal 1:19-20 Read Acts of the Apostles Ch 15 to get further background. Pope Francis: The task of education in the family is to make us sense that the world and society are also our home; it trains us how to live together in this greater home. In the family we learn closeness, care and respect for others. We come to realise that we are living with and alongside others who are worthy of our concern. There is no social bond without the everyday almost microscopic aspect of living side by side, crossing paths and being concerned about everything that affects us. AL276. One of the things children need to learn from their parents is not to get carried away by anger. AL 269.
June 30. "When people are sick or in need they will often go to great lengths to get help. We only know of the South Africans who went for healing to a pastor in Nigeria because of the disaster that befell them when the meeting building collapsed and many died. You, young people have just been confirmed and renewed the commitment to your faith made by your parents and godparents on your behalf. What does that commitment mean to you? Is your faith built on Jesus and a relationship of trust and love or is it about getting your problems solved? Is God the ultimate problem-solver, who operates in different ways in different places and situations and so we can shop around for the best deal? But it isn't only young people who do this. Amongst those who went to Nigeria, and still go, are many adult members of our Church. It saddens me to see that. I believe it saddens Jesus too. Will they be punished for their unfaithfulness as Jesus threatened the Jewish people?" Those harsh words from the bishop on his return visit to the parish after confirmation made parents and youth squirm in their seats.
Reflect, share, act. Scripture:. When Jesus came down from the mountain great crowds followed him and behold a leper came to him and said, Lord if you will, you can make me clean." Matt 8:1-4. Pope Francis: the Church, while appreciating the situations of conflict that are part of marriage, cannot fail to speak out on behalf of those who are most vulnerable; the children who often suffer in silence. Helping heal the wounds of parents and supporting them spiritually is also beneficial for children. Our most important pastoral task with regard to families is to strengthen their love, help to heal wounds and work to prevent the spread of the drama of breakdown. AL 246.
From the Documents of the Synod on Synodality opening in October 2023. Communion in the Church finds an eloquent expression in the unity of the family. Families are living icons of the Trinity, in which the communion of the Church finds its deep roots: "The triune God is a communion of love and the family is its living reflection". (AL 11)