MARFAM 2023. "OUR WORLD, A FAMILY OF FAMILIES"
DAILY THOUGHTS APRIL THEME: GOD AND FAMILY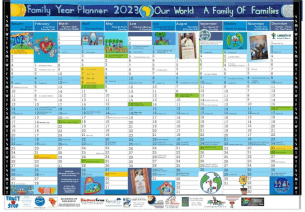 DAILY THOUGHTS on www.marfam.org.za, facebook and twitter. Request email to [email protected]. Abbreviations: Pope Francis: LS = Laudato Si. AL = Amoris Laetitia FT = Fratelli Tutti. FM = The Face of Mercy . ———————————————————————————————————————————————————-
OVERVIEW: God is Family. God, as Trinity is a family and every human family, not only as individuals but as a unit, is an image of God and mirrors the relationship of the Trinity. St Francis in his Canticle of the Creatures, praises God in these words: "Most High, omnipotent good Lord, to thee be praise and glory, honour and blessing. We praise you Lord for all your creatures, for brother sun, sister moon, brother fire, sister water, mother earth and all creation. To you O Lord do they belong, you created them and they bear your likeness."
These inanimate creations through their being offer their praise. Humankind is especially gifted with the additional power of understanding, to love but to hurt, to forgive, because of love. Through bearing pain, we share in the life and passion of Jesus. In a unique way we offer honour and gratitude to the Trinity. And yet, how has the image of the Trinity been disfigured as fire, water and wind have now become such destructive forces? How have we contributed to this? Are we ready to repair the damage?
Pope Francis: Within the family which could be called a domestic church (Lumen Gentium 11) individuals enter upon an ecclesial experience of communion among persons which reflects, through grace, the mystery of the Holy Trinity. AL86. The Father is the ultimate source of everything, the loving and self-communicating foundation of all that exists. The Son, his reflection, through whom all things were created united himself to this earth when he was formed in the womb of Mary. The Spirit infinite bond of love is intimately at the very heart of the universe, inspiring and bringing new pathways. The world was created by the three persons, acting as a single divine principle. The Trinity has left its mark on all creation. LS 238-2. Life exists where there is bonding, communion, fraternity; life is stronger than death when it is built on true relationships and bonds of fidelity. FT87. Others drink from other sources. For us the wellspring of human dignity and fraternity is in the Gospel of Jesus Christ. From it, there arises for Christian thought and for the action of the Church the primacy given to relationship, to the encounter with the sacred mystery of the other, to universal communion with the entire human family, as a vocation of all. FT277.
PRAYER IN UNION WITH CREATION from Laudato Si. From Lent, through the Passion to the Resurrection.
Triune God wondrous community of infinite love, teach us to contemplate you in the beauty of the universe, for all things speak of you. Awaken our praise and thankfulness for every being that you have made. Give us the grace to feel profoundly joined to everything that is. O Lord, seize us with your power and light, help us to protect all life, to prepare for a better future, for the coming of your Kingdom of justice, peace, love and beauty. Praise be to you.! Amen.
Setting the Scene. The DAILY THOUGHTS are presented in the format of an imaginary parish family team to lead the reflections for parish families, other members of the parish council and the parish priest. They are usually built around a scripture reading for the day.
April 1. Piet and Annabi normally kept in the background and seldom shared their thoughts. As the groups were now approaching Holy Week Piet decided to share something that was deep in his heart. "The way I was brought up in the Dutch Reformed Church in my childhood years gave me a different spiritual insight into some of the Bible passages. In particular the passages from some of the prophets about Israel being God's people had significance for us. Just listen to these words:
Scripture: "I will make a covenant of peace with them it shall be an everlasting covenant with them, and I will bless them and multiply them, and will set my sanctuary in the midst of them for evermore. They shall be my people and I shall be their God. Eze 37: 21-28.
Israel was a small nation often threatened by other big powers and at times overrun, almost destroyed, and taken into captivity. The role of the prophets was to keep them true to their God and challenge them when they sinned and followed other gods. We, as the Afrikaner nation, saw ourselves too like a chosen people, like the Israelites. Where we sinned, as I have discovered, was in oppressing others. Now, in very recent times, the attitude of Pope Francis is very much that everyone belongs together, we should all be one people, even if we worship God in different forms. "Fratelli Tutti. Brothers all." It has been a long learning journey for me."
Pope Francis: In his simple and direct way, St Francis expressed the essence of a fraternal openness that allows us to acknowledge, appreciate and love each person, regardless of physical proximity, regardless of where he or she was born or lives. Francis felt himself a brother to the sun, the sea and the wind, yet he knew that he was even closer to those of his own flesh. Wherever he went, he sowed seeds of peace and walked alongside the poor, the abandoned, the infirm and the outcast, the least of his brothers and sisters. FT 1-2.
Reflect, share, act, pray. how are we able to reflect and share on beliefs of fellow Christians and how can we relate to those of other religions, Muslims, Hindus, Jews and others? Can interreligious dialogue about common and shared values lead to a greater sense of human fraternity and acceptance? What can our particular religious family do?
HOLY WEEK note. Some of the reflections during Holy Week are built on the Songs of the Servant of the Lord from the prophet Isaiah which are included in different parts of the liturgy of Holy Week.
April 2. Palm Sunday. Bruce, the parish scripture scholar offered to facilitate the reflections. Starting with an extract from one of the Songs of the Servant, he explained that it is not known for whom they were originally composed. It could have been Israel or a person of the time but in New Testament times they are most often applied to Jesus. For meditation purposes they can also be applied to others like St Francis, who was deeply engrossed in meditating on aspects of the life and the Passion of Jesus Christ at this time.
From the 3rd Song of the Servant of the Lord. The Lord God has given me the tongue of those who are taught, that I may know how to sustain with a word him that is weary. I gave my back to those who struck me and my cheeks to those who pulled out the beard. I hid not my face from shame and spitting for the Lord God helps me. Isaiah 50:4-7
From The Little Flowers of St Francis of Assisi. St Francis and his companions responded to a calling from God to carry the cross of Christ in their hearts, to practise it in their lives, and to preach it by their words. They were truly crucified men both in their actions and in their works. Out of love for Christ they sought after shame and contempt, rather than the honours of the world, the respect and praise of men. They rejoiced to be despised, and were grieved when honoured. Thus they went about the world as pilgrims and strangers, carrying nothing with them but Christ crucified; and because they were of the true Vine, which is Christ, they produced great and good fruits in many souls they gained to God.
In the beginning of the Order St Francis sent Brother Bernard to Bologna, to accomplish many good works, according to the grace which God had given him. So Brother Bernard, in the name of holy obedience, set out but when he arrived in that city, the little children in the streets, seeing him dressed so strangely and so poorly, laughed and scoffed at him, taking him for a madman. All these trials Brother Bernard accepted for the love of Christ, with great patience and with great joy, and seeking to be despised yet more, he went to the market-place, where, having seated himself, a great number of children and men gathered round him, and taking hold of his hood pushed him here and there, some throwing stones at him and others dust. To all this Brother Bernard submitted in silence, his countenance bearing an expression of holy joy, and for several days he returned to the same spot to receive the same insults.
Now, patience being a work of perfection and a proof of virtue, a learned doctor of the law, seeing such virtue and constancy in Brother Bernard, who had endured such contempt and such injuries without losing his temper, said within himself: "Without doubt this man must be a great saint"; and going up to him, he asked who he was, and whence he came. Brother Bernard put his hand into his bosom, and taking out the Rule of St Francis, gave it to him to read. The doctor, having read the Rule, was struck with wonder and admiration at the sublime perfection described, and turning to his friends, he said: "Truly this is the most perfect state of Religion I have ever heard of, and this man and his companions are the holiest men I have met in all the world; guilty indeed are those who insult him; we ought, on the contrary, to honour him as a true friend of God."
Reflect, share, pray. How does this story speak to you?
April 3. Monday of Holy Week. Bruce again introduced the reflection, which is on a positive note. From the First Song of the Servant of the Lord. "Behold my servant whom I uphold, my chosen in whom my soul delights. He will bring forth justice to the nations. A bruised reed he will not break, and a dimly burning wick he will not quench. The islands wait for his law." Thus saith God, the Lord who created the heavens and stretched them out, who spread out the earth and what comes from it, who gives breath to the people upon it and spirit to those who walk in it. "I have given you as a covenant to the people, a light to the nations to open the eyes that are blind, to bring out the prisoners from the dungeon, from the prison those who sit in darkness." Is 42:1-7.
From The Little Flowers of St Francis of Assisi. St Francis, one day of the Carnival, was near the Lake of Perugia, in the house of one of his devout followers, with whom he had spent the night, when he was inspired by God to go and pass the time of Lent in an island on the lake. St Francis begged his friend, for the love of God, to convey him in his boat, to an island uninhabited by man, during the night of Ash-Wednesday, so that none might know where he was. The friend, because of the great devotion to St Francis, agreed and conveyed him to the island, St Francis taking with him naught but two small loaves. When they had reached the island, his friend left him; the saint earnestly entreating him to reveal to no one where he was, and not to come and fetch him before Holy Thursday.
St Francis being left alone, and there being no dwelling in the island in which he could take shelter, entered into a thick part of the wood all overgrown with brambles and other creeping plants, and forming a kind of hut, there he began to pray and enter into contemplation of divine things. And there he passed the whole of Lent without drinking or eating save half of one of the small loaves he had taken with him, as we learned from his friend who, going to fetch him on Holy Thursday, found one of the loaves untouched and the other only half consumed. St Francis ate this half out of reverence for our Blessed Lord, who fasted forty days and forty nights without taking any material food; for by eating this bit of bread he put aside the temptation to vainglory, and yet fasted forty days and forty nights. In later times God worked many miracles on the spot where St Francis had fasted so wonderfully.
Reflect, share, pray. How does this story speak to you?
April 4. Tuesday of Holy Week. Bruce introduced the reflection for the day, possibly representing the people of Israel. From the Second Song of the Servant of the Lord. The Lord said to me, "You are my servant Israel, in whom I will be glorified. But I said, "I have laboured in vain. I have spent my strength for nothing and vanity, yet surely my right is with the lord, and my recompense with my God." Is 49:1-6.
From The Little Flowers of St Francis of Assisi. St Francis spoke to Brother Masseo about himself "Wouldst thou know why all men come after me? Know that it is because the Lord, who is in heaven, who sees the evil and the good in all places – because, I say, his holy eyes have found among men no one more wicked, more imperfect, or a greater sinner than I am; and to accomplish the wonderful work which he intends to do, he has found no creature more vile than I am on earth; for which reason he has chosen me, to confound all strength, beauty, greatness, noble birth, and all the science of the world, that men may learn that every virtue and every good gift cometh from him, and not from any creature, that none may glory before him; but if any one glory, let him glory in the Lord, to whom belongeth all glory in eternity." Then Brother Masseo, at such a humble answer, given with so much fervour, was greatly impressed, and learned of a certain that St Francis was well grounded in humility."
St Bonaventure, St Francis' biographer, in a sermon preached in Paris in 1255 noted the importance of the virtue of meekness in the life of St Francis of Assisi. He writes, "We ought to learn meekness, which is utterly necessary, from St Francis. He cherished meekness not only toward other people, but also toward dumb animals. Even wild animals came running to him as their friend and companion. (There is a famous story of St Francis communicating with and taming a hungry wild wolf who was threatening the people of the town of Gubbio.) Meekness is necessary to the pursuit of truth both in those learning and those who teach; it is necessary for the inward and outward practice of virtue, to make right judgements, for without it others are not corrected but destroyed. Meekness is necessary to attain eternal life. The meek person does not create favouritism towards persons, but will care for both the lesser and the greater. The meek person is simple. He should possess only what is necessary for his needs. He should be someone who comforts the afflicted. O sublime humility, o humble sublimity! The Lord of the universe, God and the Son of God so humbles Himself that for our salvation he hides himself under an ordinary piece of bread." Reflect, share, pray. How does this reflection speak to you?
April 5. Wednesday of Holy Week. Bruce introduced the reflection for the day.The servant submits to the insults of those who do not listen. From the Third song of the servant of the Lord. The Lord has given me the tongue of those who are taught, that I may know how to sustain with a word him that is weary. Morning by morning he wakens, he wakens my ear to hear as those who are taught. I turned not backwards. I gave my back to those who struck me, and my cheeks to those who pulled out the beard. I hid not my face from shame and spitting. For the Lord God helps me. Is 50:4-9.
From The Little Flowers of St Francis of Assisi. The humble servant of Christ, St Francis, having already assembled and received many brothers into the Order, was much troubled and perplexed in mind as to what he ought to do; whether to give himself entirely to prayer, or now and then to preach the Word. Through his great humility, he had no opinion of himself or of the virtue of his prayers; and, wishing to know the will of God, he sought to learn it through the prayers of others. Wherefore he called to him Brother Masseo, and thus addressed him: "Go to Sister Clare, and bid her from me to set herself with some of the holiest of her sisters to pray the Lord that he may show me clearly whether he wills that I should preach or only keep to prayer. Then go to Brother Silvester, and ask of him the same favour." Now Brother Silvester was so holy, that whatever he asked of God was granted to his prayer, and often he held converse with the Lord; so that St Francis revered him greatly.
Then Brother Masseo did as St Francis had commanded him; first to St Clare, and then to Brother Silvester, who set about praying immediately. and, having received the answer from the Lord, returned to Brother Masseo, and said to him: "The Lord says, go and tell Brother Francis that he has called him to this state not to save merely his own soul but that he may produce fruits in those of others, and that through him many souls be saved." Brother Masseo returned to Sister Clare, to ask what she had learnt from God; and she told him that she and all her companions had received from God the same answer as the Lord had given to Brother Silvester. Brother Masseo hastened to St Francis to bring these answers; and St Francis received him with great charity, washing his feet, and serving him at dinner. When the repast was over, he called Brother Masseo into the forest, and, kneeling down before him, put back his hood; and crossing his arms on his breast, said to him: "What answer dost thou bring me? what does my Lord Jesus Christ order me to do?" Brother Masseo answered: "The Lord Jesus Christ has revealed to Brother Silvester and to Sister Clare, that it is his will thou shouldst go about to preach; for thou hast not been called for thyself alone, but the salvation of others."
Then St Francis, having received the answer, and knowing it to be the will of the Lord Jesus Christ, arose saying, "Let us go in the name of God." Taking with him Brother Masseo and Brother Agnolo, both holy men, he let himself be guided by the Spirit of God, without considering the road he took. They soon arrived at a town called Savurniano, where St Francis began to preach and convert many to the faith, founded the Third Order, preached to the birds, and reduced to silence the swallows in the field.
Reflect, share, pray. How does this reflection speak to you?
SACRED TRIDUUM
April 6. Holy Thursday. Bruce introduced the reflection with the 2nd reading from the Mass of the Last Supper which he linked with the spiritual meal shared by St Francis and St Clare.
Scripture. "I received from the Lord what I also delivered to you, that the Lord Jesus on the night when he was betrayed took bread and when he had given thanks, he broke it, and said, "This is my body which is for you. Do this in remembrance of me." In the same way also the chalice saying "This chalice is the new covenant in my blood. Do this as often as you drink it, in remembrance of me. For as often as you eat this bread and drink this chalice, you proclaim the Lord's death until he comes." 1 Cor 11:23-26.
From The Little Flowers of St Francis of Assisi. How St. Clare ate with St Francis and his companions at St Mary of the Angels. St Clare, having a great desire to eat once with him, often begged him to grant her this request; but the saint would never allow her this consolation. His companions, therefore, being aware of the refusal of St Francis, and knowing how great was the wish of Sister Clare to eat with him addressed him: "Father, it seems to us that this severity on thy part in not granting so small a thing to Sister Clare is not according to holy charity." St Francis answered: "It seems to you, then, that I ought to grant her this request?" His companions made answer: "Yea, father, it is meet that thou grant her this favour and this consolation." "But I will that the meal do take place in front of St Mary of the Angels, because, having been for so long time shut up in San Damiano, it will do her good to see the church of St Mary, wherein she took the veil, and was made a spouse of Christ. There, then, we will eat together in the name of God."
When the appointed day arrived, St Clare left her convent with great joy, taking with her one of her sisters. She arrived at St Mary of the Angels, and having devoutly saluted the Virgin Mary, before whose altar her hair had been cut off, they conducted her to the convent, and showed her all over it. In the meantime St Francis prepared the meal on the bare ground, as was his custom. The hour of dinner being arrived, St Francis and St Clare, with one of the brethren of St Francis and the sister who had accompanied the saint, sat down together, all the other companions of St Francis seated humbly round them. When the first dish was served, St Francis began to speak of God so sweetly, so sublimely, and in a manner so wonderful, that the grace of God visited them abundantly, and all were rapt in Christ.
Whilst they were thus rapt, with eyes and hearts raised to heaven, the people of Assisi and all the country round about, saw St Mary of the Angels as it were on fire. It seemed to them as if the church, the convent, and the woods were all enveloped in flames; and the inhabitants of Assisi hastened with great speed to put out the fire. On arriving at the convent, they found no fire; and entering within the gates they saw St Francis, St Clare, with all their companions, sitting round their humble meal, absorbed in contemplation; then knew then of a certainty, that what they had seen was a celestial fire, not a material one, which God miraculously had sent to bear witness to the divine flame of love which consumed the souls of those holy brethren and nuns; and they returned home with great consolation in their hearts, and much holy edification.
After a long lapse of time, St Francis, St Clare, and their companions came back to themselves; and, being fully restored by the spiritual food, cared not to eat that which had been prepared for them.
Reflect, share, pray. How did this reflection speak to you? In what way can it be seen as a "paschal meal?"
April 7. Good Friday. Bruce introduced the reflection and noted how Christ was the true fulfillment of this passage (read it in full) which also finds an echo in the experience of St Francis.
From the Fourth Song of the Servant of the Lord. "Behold my servant shall prosper, he shall be exalted and lifted up and shall be very high. As many were astonished at him – his appearance was so marred, beyond human semblance. Surely he has borne our griefs and carried our sorrow, yet we esteemed him stricken, struck down by God and afflicted. But he was wounded for our transgressions he was bruised for our iniquities, upon him was the chastisement that made us whole and with his stripes we are healed." Is 52:13 – 53:12.
From The Little Flowers of St Francis of Assisi. The day before the Feast of the most Holy Cross, as St Francis was praying secretly in his cell, an angel of God appeared to him, and spake to him thus from God: "I am come to admonish and encourage thee, that thou prepare thyself to receive in all patience and humility that which God will give and do to thee." St Francis replied: "I am ready to bear patiently whatsoever my Lord shall be pleased to do to me"; and so the angel departed. On the following day – being the Feast of the Holy Cross – St Francis was praying before daybreak at the entrance of his cell, and turning his face towards the east, he prayed in these words: "O Lord Jesus Christ, two graces do I ask of thee before I die; the first, that in my lifetime I may feel, as far as possible, both in my soul and body, that pain which thou, sweet Lord, didst endure in the hour of thy most bitter Passion; the second, that I may feel in my heart as much as possible of that excess of love by which thou, O Son of God, was inflamed to suffer so cruel a Passion for us sinners." And continuing a long time in that prayer, he understood that God had heard him, and that, so far as is possible for a mere creature, he should be permitted to feel these things.
St Francis began to contemplate most devoutly the Passion of Jesus Christ and his infinite charity; and so greatly did the fervour of devotion increase within him, that he was all transformed into Jesus by love and compassion. On that same morning he beheld a seraph descending from heaven with six fiery and resplendent wings; and this seraph drew nigh unto St Francis, so that he could plainly perceive that he bore the image of one crucified; And when St Francis beheld it, he was much afraid, and filled at once with joy and grief and wonder. He felt great joy at the gracious presence of Christ, who appeared to him thus familiarly, and looked upon him thus lovingly, but, beholding him thus crucified, he felt exceeding grief and compassion.
It was revealed to him that he might understand that, not by martyrdom of the body, but by a consuming fire of the soul, he was to be transformed into the express image of Christ crucified. Then did all the Mount Alvernia appear wrapped in intense fire, which illumined all the mountains and valleys around and shepherds who were watching their flocks in that country were filled with fear. Christ spoke to him certain high and secret things, "Knowest thou," said Christ, "what I have done to thee? I have given thee the stigmata which are the insignia of my Passion, that thou mayest be my standard-bearer; and as on the day of my death I descended into limbo, and delivered all the souls whom I found there, so do I grant to thee that every year on the anniversary of thy death thou mayst go to Purgatory, and take with thee to the glory of Paradise the souls of others whom thou shalt find there, who have been especially devout to thee."
Then that marvellous vision disappeared, leaving in the heart of St Francis an excessive fire and ardour of divine love, and on his flesh a wonderful trace and image of the Passion of Christ. For upon his hands and feet began immediately to appear the figures of the nails, as he had seen them on the Body of Christ crucified, who had appeared to him in the likeness of a seraph. And thus the hands and feet appeared pierced through the midst by the nails. In like manner, on the right side appeared the image of an unhealed wound, as if made by a lance, and still red and bleeding, from which drops of blood often flowed from the holy breast of St Francis, staining his tunic. Reflect, share, pray. How does this reflection speak to you?
April 8. Holy Saturday. Bruce introduced the reflection from the Liturgy of the Word of the Easter Vigil.
Scripture: "Your maker is your husband, the Lord of hosts is his name and the Holy One of Israel is your redeemer, the God of the whole earth he is called. For the Lord has called you like a wife forsaken and grieved in spirit, like a wife of youth when she is cast off. For a brief moment I forsook you but with great compassion I will gather you. With overflowing wrath for a moment I hid my face from you, but with everlasting mercy I will have compassion on you says the Lord, your Redeemer." Is 54: 5-14
The Little Flowers of St Francis of Assisi. Now although these sacred wounds, which had been impressed upon him by Christ, gave great joy to his heart, yet they caused unspeakable pain to his body; so that, being constrained by necessity, he made choice of Brother Leo, for his great purity and simplicity, to whom he revealed the whole matter, suffering him to touch and dress his wounds on all days except during the time from Thursday evening till Saturday morning, for then he would not by any human remedy mitigate the pain of Christ's Passion, which he bore in his body, because at that time our Saviour Jesus Christ was taken and crucified, died and was buried for us. And it came to pass sometimes that when Brother Leo was removing the bandage from the wound in the side, St Francis, because of the pain caused thereby, would lay his hand on Brother Leo's breast, and at the touch of that holy hand Brother Leo felt such sweetness of devotion as well-nigh made him to fall fainting to the ground.
St Francis, having completed the Lent of St Michael the Archangel, prepared himself to return with Brother Leo to St Mary of the Angels. and calling to him Brother Masseo and Brother Angelo, and blessing them in the name of Jesus crucified, he suffered them, at their earnest prayer, to see, touch, and kiss his sacred hands adorned with those holy, glorious, and sacred stigmata; and so leaving them in great joy and consolation, he parted and came down from the holy mountain.
Reflect, share, pray. How does this reflection speak to you.
April 9. Easter Sunday. Michelle said, "Francis was only 45 when he died and he did so much." Jackson added, "and we have heard so much about different parts of his life. His death seems to have been quite joyful. Is that not strange?"
Canticle 9. PRAISED BE YOU, my Lord, through our Sister Bodily Death, from whom no one living can escape. Woe to those who die in mortal sin. Blessed are those whom death will find in Your most holy will, for the second death shall do them no harm.
From Care for Creation. (p81) "At a time, a year before his death, when he was suffering from his painful eye condition as well as effects of the stigmata he was reflecting on his troubles and he prayed to God for help. He heard a voice which told him that his troubles were a great treasure securing his entry into God's kingdom. After that he felt so close to God that he said he wanted to sing. That is when he composed the major portion of the Canticle of the Creatures. " From Care for Creation. (p81)
"The tribute to death calling it sister was composed shortly before his own bodily death in 1226. He speaks about a first and second death. What does this mean? All of Francis' life was a "death" because it involved a continual letting go for the sake of the other, a constant, "dying to self" so that Christ might live in him. The first death is a death to the self-centred ego which wants to exert itself through power and control over others. This self must die to open oneself to the true self, a web of life, and the family of creation, with the death of the body, the second death. What we see in the life of Jesus and the song of Francis is that God does not create for death, annihilation or frustration but rather to perfect his creatures into the full body of Christ. Care for Creation (P90-91).
In St Francis UNCENSORED Noonan heads this chapter "The Jovial Death of Francis." As mentioned above Francis was ready and close to God. He made his final preparations, his own personal liturgy, and asked the brothers to join him in singing his Canticle. He blessed and granted forgiveness to them and in a Last Supper-like gesture shared bread with those present. He wanted to be laid naked on the earth and sprinkled with ashes, a final salute and acknowledgement of Christ, naked and crucified on the hill of Calvary. He died, singing the final verse of his Canticle of the Creatures, knowing death would do him no harm.
Scripture: Christ our Paschal Lamb, has been sacrificed. Let us therefore celebrate the festival not with the old leaven of malice an devil but with the unleavened bread of sincerity and truth. 1 Cor 5:6-8. Pope Francis: If we accept death, we can prepare ourselves for it. The way is to grow in our love for those who walk at our side, until that day when death will be no more. AL258. We direct our gaze to the end of time, when the Son will deliver all things to the Father so that God may be everything to everyone. Thus the creatures of this world no longer appear to us under merely natural guise because the risen One is mysteriously holding them to himself and directing them towards fullness as their end. The very flowers of the field and the birds which his human eyes contemplated are now imbued with his radiant presence. LS 100
From The Care of Creation. "The death of Jesus was not the annihilation of creation but its radical transformation through the power of God's life-giving Spirit. Jesus' resurrection is the beginning of the transformation of the world and this includes the world of nature. This is the ultimate message of the Incarnation. God created, was present and continues to be present in his love, throughout the life of Jesus, his resurrection and the final transformation of all creation, as foretold in the gospels and the book of Revelation. The human spirit surrenders its limited bodily structure and becomes open toward the universe and in some way a true brother and sister to the elements of the universe. Relationship is the key to the beauty of the universe. Since all reality is good, then my relationship with others, human and non-human ought to promote goodness." Reflect, share, pray. How does this reflection speak to you?
April 10. Easter Monday, Family Day. Mrs Adams shared, "These last few years with a much greater focus on sickness, war, life and death has probably made us more aware of our vulnerability and the possibility of death. Fear and anxiety have been common experiences. "I know that we did not have a Covid-19 death in our immediate family, but the reality and possibility of death has certainly become part of life. I think that is ultimately a good thing. What do others think?"
The book Care for Creation – a Franciscan spirituality continues to reflect on death and eternal life. "Francis' praise of death is a return of love for love. In his own way he tells us that the world is not blindly hurtling into extinction but is moved by Christ to Christ that God may be all in all. What happened in the death of Jesus anticipated the future of humanity and the cosmos itself. The death of Jesus was not the annihilation of creation but its radical transformation through the power of God's life-giving Spirit. Jesus' resurrection is the beginning of the transformation of the world and this includes the world of nature." This is the ultimate message of the Incarnation.
God, as Trinity is family and every human family, not only as individuals but as a unit, is an image of God and mirrors the relationship of the Trinity. Remembering that OUR WORLD IS A FAMILY OF FAMILIES every family, animal and plant too, mirrors God in their own unique way. St Francis praises God in these words: WE PRAISE YOU LORD FOR ALL YOUR CREATURES, for brother sun, sister moon, brother fire, sister water, mother earth and all creation. To you O Lord do they belong, you created them and they bear your likeness." And the last canticle: Canticle 10. PRAISE AND BLESS MY LORD, and give Him thanks and serve Him with great humility.
Reflect, share, pray, act. The inanimate elements of creation through their being offer their praise. Humankind is especially gifted with the additional power of understanding, to love but to hurt, to forgive, because of love. Through bearing pain, in a unique way we offer honour and gratitude to the Trinity. How has the image of the Trinity been disfigured as fire, water and wind have now become such destructive forces? How have we contributed to this? Are we ready to do our part, repair the damage and continue, as St Francis was called to do, to rebuild God's Church?
At the same time may we join St Francis and Pope Francis in a celebration of praise, thanksgiving, peace and joy remembering that each of our families is a mirror of God's love in our own unique and special way.
TR Lent and Easter 2023.
—————————————————————————————————————————————————————————
April 11. Tuesday of Easter week. Young Magdalene liked the story how on Easter morning, while her name sake was weeping over the fact that Jesus' body had disappeared, she saw a strange man in the garden. She shared, "Once when I was quite little Mom told me that Jesus was everywhere and I must look around to see him. I didn't know what he looked like. It seems that Mary Magdalene also didn't recognise him. That made me wonder, how different does he look to different people at different times. Would he be very attractive or at some other times disfigured from the beating he had received?"
Scripture: Supposing him to be the gardener Mary Magdalene said to him," Sir if you have carried him away tell me where you have laid him and I will take him away." Jesus said to her, "Mary". She turned and said to him, "Rabboni, Teacher." John 20:11-18. Pope Francis. Christ's flesh becomes visible in the flesh of the tortured, the crushed, the scourged, the malnourished and the exiled, to be acknowledged, touched and cared for by us. FM 5. In the depths of every heart, love creates bonds and expands existence, for it draws people out of themselves and towards others. Since we were made for love, in each one of us a law of ekstasis seems to operate, the lover goes outside the self to find a fuller existence in another. FT 88 Reflect, share, pray, act. What is your favourite image of Jesus?
April 12. Wednesday of Easter week. "Hey, that's my story," Peter said. "Did you tell us all the same stories when we were little or maybe sometimes a little bit different. Why did those two disciples that were walking to Emmaus not recognise him or why didn't they have names? Were they not important? I like to think that Jesus is there for me, even if I am not as important as Pope Francis or the bishop. Is that being "unhumble?" John said, "What I like is that there were a pair of them, together, maybe a husband and wife, maybe with their kids and that Jesus took his time to walk and talk with them. Walk and talk, that is nice don't you think? We should do that too, all together."
Scripture: Beginning with Moses and all the prophets he interpreted to them in all the Scriptures the things concerning himself. Luke 24:13-35. Pope Francis. We can be fully present to others only by giving fully of ourselves. Jesus is our model in this. AL323. In talking with his disciples Jesus would invite them to recognize the paternal relationship God has with all his creatures. With moving tenderness he would remind them that each one of them is important in God's eyes, "Are not five sparrows sold for two pennies? And not one of them is forgotten before God." LS 96. Reflect, share, pray, act. Consider doing an Emmaus walk with family or someone special.
April 13. Thursday of Easter week. Bryan seeing himself as a budding forensic pathologist wondered, "I am fascinated by Jesus and his resurrected body. How could he not be a spirit but appear and disappear at will? It must really have been very hard for the disciples to believe. Touching something does make it far more real, like sometimes when I feel I want to be loved. I suppose once you have crossed that barrier you can also take seriously what Jesus said." Reflect, share, pray, act
Scripture: Jesus said to them,"Why are you troubled? See my hands and my feet that it is I myself. Touch me and see, for a spirit as no flesh and bones as I have. Luke 24:35-48. Pope Francis. Against a backdrop of love so central to the Christian experience of marriage and the family the virtue of tenderness stands out. In biblical texts we see a delicate and tender intimacy between mother and child, a babe sleeping his mother's arms after being nursed. AL 28.
April 14. Friday of Easter week. Mom who loved picnics shared some thoughts. "It must have been a very strange breakfast picnic there on the shore of the sea of Tiberias. The disciples first were being skeptical about going out again in their boat after having caught nothing all night. Even at the end when they came with their 153 fish and Jesus was cooking breakfast for them they seemed uncertain. I wonder who said what in the end. I also sometimes don't know what to say to Jesus. Does anyone else feel like that? Maybe this synodality that is talked about these days will help us." "Synodality means journeying together as the People of God. It indicates a way of listening to each individual person, speaking openly as a member of the Church, to understand how God might be speaking to all of us. It is the work of the Holy Spirit, calling us and leading us to "communion, participation, mission."
Scripture: They went out in the boat but that night they caught nothing. As day was breaking Jesus stood on the beach, yet the disciples did not now that it was Jesus. He said to them, cast the net on the right side of the boat and you will find some fish." So they cast it and now they were not able to haul it in. John 21:1-14. Pope Francis. St Francis helps us to see than an integral ecology calls for openness to categories which transcend the language of mathematics and biology, and take us to the heart of what it is to be human. Just as happens when we fall in love with some, whenever he would gaze at the sun, the moon of the smallest of animals he burst into song, drawing all other creatures into his praise. He communed with all creation inviting them to praise the Lord, just as if they were endowed with reason. LS 11. Reflect, share, pray, act. Get involved in the journey of synodality in your own area.
April 15. Saturday of Easter Week. The two brothers were having an argument. Percy shouted, "How often have I told you, shown you, nagged you and how often are you so thick you just don't understand, or choose to understand." They hadn't really started their faith sharing yet and of course Percy would not have talked to his younger brother like that if they had. Aunt Norah was clever to use the opportunity to say that Jesus must also have felt frustrated and irritated at times with the "thickness" of the disciples. "Do we really always try hard enough to listen and understand what we are being told and especially what we need to know," she added. Reflect, share and act, pray.
Jesus appeared first to Mary Magdalen and then to two others but the Eleven did not believe. Afterwards he appeared to the Eleven themselves as they sat at table and he upbraided them for their unbelief and hardness of heart because they had not believed those who saw him after he had risen. And he said to them, "Go into all the world and preach the gospel to the whole creation. Mark 16:9-15 Pope Francis. When a family is welcoming and reaches out to others, especially the poor and the neglected, it is a symbol, witness and participant in the Church's motherhood. Social love is a reflection of the Trinity. The family lives its spirituality precisely by being at one and the same time a domestic church and a vital cell for transforming the world. AL 324 The Holy Spirit always surprises us to suggest fresh paths and new ways of speaking. It is a slow and perhaps tiring exercise, this learning to listen to one another – bishops, priests, religious and laity, all the baptized – and to avoid artificial and shallow and pre-packaged responses. Let us not soundproof our hearts, let us not remain barricaded in our certainties. Homily of Pope Francis.
April 16. Easter 2A. Divine Mercy Sunday. Fr Fidelis had a few thoughts to share with the people on this Sunday. "How did the early church grow?" he asked. "Were the disciples all fired up immediately? No. They needed extra help, right, like we all do all the time." You could say that Divine Mercy Sunday is celebrating God's mercy as an extra something but something that is always available to us. There is a special devotion attached to this which is about our trust in God's mercy for us, who acknowledge ourselves as sinners in need of mercy and forgiveness. We priests have been given special sacramental powers to forgive sins in the name of God. In all humility I really wish more people would appreciate what that can mean for them. It can be a way of 'touching' Jesus who heals and forgives."
Scripture. "Put your finger here and see my hands and put your hand and place it in my side; do not be faithless but believe." Thomas answered, "My Lord and my God." John 20:19-31. Pope Francis. I will never tire of insisting that confessors be authentic signs of the Father's mercy. We do not become good confessors automatically. We become good confessors when, above all, we allow ourselves to be penitents in search of his mercy. FM 17. Reflect, share and act, pray. Is confession important in your lives?
April 17. Evelyn posed a question that was bothering her. "Do we still believe in miracles today, or do we depend on our own powers, knowledge and expertise? Look at the reality of COVID-19 the pandemic that raged for more than two years all over the world. Medical science had a field-day working tirelessly to develop vaccines, even in competition with one another, because it is a lucrative business. There has been much very good work but also much fraud, theft and misinformation. But when it comes to prayer, trust and dependence on God's intervention how much has there been? I often think we've become too independent of God." Others added their thoughts. "God does work in the situation, through the hands of those medical staff and carers who sacrificed much for their patients and the scientists too." "When people are infected and very sick, many prayers for healing are offered and when there is suffering and death people do turn to God and pray for consolation." "I'm still not convinced that we have recognized God sufficiently."
Scripture The disciples prayed, "Now Lord, look upon their threats and grant to your servants to speak your word with all boldness, while you stretch out your hand to heal and signs and wonders are performed through the name of your holy servant Jesus." When they had prayed, the place was shaken; and they were all filled with the Holy Spirit and spoke the word of God with boldness. Acts 4:23-31. Pope Francis: The weakening of faith and religious practice in some societies has had an effect on families, leaving them more isolated amid their difficulties. One symptom of the great poverty of contemporary culture is loneliness arising from the absence of God in a person's life and the fragility of relationships. AL43. Reflect, share, pray and act.
April 18. Jason had a turn to lead the sharing. "Be honest everyone, "he said "are you all prepared to not only share your things within our family but for us to sell what we have and be prepared to share with everyone in the whole world. Isn't that pretty excessive? I think it is." It was a very big challenge for all of them to consider. "I don't think that even Pope Francis expects us to go that far, but I know and believe that there are still people like the missionaries and other religious who have given up all their possessions." "But they don't have kids to send to school." So they threw the idea around. "It is being of one heart and soul that means feeling for one another that is important and not letting other people go hungry. What about the beggars on the street corners?" "That would be a start for us at least," was the conclusion. "Let's also look at a current reality. There is the horrific war in Ukraine and the millions of people dispossessed and becoming refugees has highlighted the horrors of war but also how incredibly hospitable and generous people can be when a serious need arises. Natural disasters, earthquakes and cyclones call on us too to be hospitable and generous."
Scripture The company of those who believed were of one heart and soul and no one said that any of the things which he possessed was his own, but they had everything in common. There was not any one needy among them. Acts 4:32, 34. Pope Francis. Led by the spirit the family circle is not only open to life by generating it within itself, but also by going forth and spreading life by caring for others and seeking their happiness. Some find particular expression in hospitality. AL 324. Reflect, share and act.
April 19. Busi picked up the sharing from the day before. "You can see that not everyone thought like those followers did, willing to give up everything. What intrigues me as that the Jewish leaders were jealous that those people were so committed to their beliefs and to each other that they were prepared to give up what they owned. I wonder if they had a guilty conscience because they were not living the way they should. I can learn something from that too, I must admit, that in a strange way, I do feel resentful or even jealous sometimes when I see really good committed people."
Scripture: Filled with jealousy they arrested the apostles and put them in prison. At night an angel of the Lord opened the prison doors and brought them out and said, 'Go and stand in the temple and speak to the people all the words of this Life.' Acts 5:17-19. Pope Francis. The urgent challenge to protect our common home includes a concern to bring the whole human family together to seek a sustainable and integral development, for we know that things can change. The Creator does not abandon us, he never forsakes his loving plan or repents of having created us. Humanity still has the ability to work together in building our common home. I want to recognize, encourage and thank all those striving in countless ways to guarantee the protection of the home which we share. LS13. Reflect, share and act, pray. How active is our family in this regard?
April 20. Sophie was a nurse working in a public hospital. She shared a real concern. "I wonder what would happen if I refused to do some procedures that are against my religion, like performing an abortion. If I say, 'I must obey God rather than men,' will I lose my job? I know some nurses did get fired and then it's not easy to get another post. Plus it is a big worry about one's own children." Mrs Adams added, "It is a real dilemma in quite a few professions, I know. But somehow we pray for courage to obey our conscience, because after all we're answerable to God. You can discuss it with Father if you want to, or with another priest. I can relate to what Pope Francis had to say."
Reflect, share and act. Scripture. Peter and the apostles said to the council. "We must obey God rather than men. The God of our fathers raised Jesus whom you killed by hanging him on a tree. God exalted him. We are witnesses of these things. From Acts 5:27-33. Pope Francis: We find it hard to make room for the consciences of the faithful who often respond as best they can to the Gospel amid their limitations and are capable of carrying out their own discernment in complex situations. We have been called to form consciences not to replace them. AL 37. Reflect, share and act, pray. Consider issues around conscience together.
April 21. Mom shared, "We all know this story. Whenever I hear of Jesus feeding 5000 people with the 5 loaves and 2 fish that the little boy had in his lunch box my mind sticks with that child. What made him come forward in such a big crowd and offer what he had? There must have been other people who had brought some food along and didn't offer to share. What kind of person was he and would he maybe have become a great disciple when he grew up?
Scripture. Jesus knew what he would do. Andrew said to Jesus, "there is a lad here who has five barley loaves and two fish, but what are they among so many?" Jesus said, "Make the people sit down." He then took the loaves and when he had given thanks he distributed them. John 6:1-15 Pope Francis. In the concern for children Jesus goes so far as to present them as teachers on account of their simple trust and spontaneity towards others. "Unless you become like children you will not enter the kingdom of heaven." AL 18. Reflect, share and act, pray. Who is most generous in our family?
April 22. After listening to the reading of the day the women of the sodality looked a little perplexed. Mrs Ndlovu said, "Yes, I believe that each person should have a designated role to play in working in the community, but why does it speak of men to serve at table? Isn't that women's work?" "Never mind whose work, the important thing for us is to teach our children to do their chores as something to be valued for the common good." "I have a problem with making the teaching and preaching a "higher" activity than serving one another. Is love and service not our first goal? And aren't the church leaders meant to be servants of the servants? Isn't all this what this new Synodality Synod is talking about?"
Scripture. It is not right that we should give up preaching the word of God to serve tables. Therefore, pick out from among you seven men of good repute, full of the Spirit and of wisdom, whom we may appoint to this duty. Acts 6: 1-7. Pope Francis. The triune God is a communion of love and the family is its living reflection. Saint John Paul II shed light on this when he said, "our God in his deepest mystery is not solitude, but a family, for he has within himself fatherhood, sonship and the essence of the family, which is love. AL 11. Reflect, share and act, pray. Consider the priorities in our family.
April 23. Easter 3A. Fr Fidelis started by saying, "The Emmaus story must be a favourite for many people and there are so many little nuances. There was Jesus walking with the two persons, were they men or maybe even a couple, them not recognising him at first and their excitement when they did, him remaining to share a meal with them and being their teacher. I suggest that maybe in your own families when you read this story you could share what it is that each of you found most meaningful. For me personally it is Jesus himself being their teacher. He must have been an amazing teacher and family catechesis invites us all to work at this.
Scripture. While the two were talking Jesus himself drew near and went with them, but their eyes were kept from recognizing him. They said, " Did not our hearts burn within us while he talked to us on the road , while he opened to us the Scriptures. Luke 24:13-35. Pope Francis. Parents have a serious responsibility for this work of education as the Biblical sages often remind us. Children for their part are called to accept and practise the commandment "Honour your father and your mother." AL 17. The Church offers herself as a family among families open to bearing witness in today's work, open to faith, hope and love for the Lord and for those whom he loves with a preferential love, to build bridges, break down walls, to sow seeds of reconciliation. FT 276. Reflect, share and act, pray. How is our family catechesis? Is God a real part of our family life?
April 24. "Why are we in our day not like those early Christians, so full of fire?" Brent had often thought about this. "I see other churches talking about miracles and wonders but we Catholics are quite skeptical about that. Do miracles really happen or can they?" They decided to consult with the prayer group in their parish and were told, "Yes, miracles are still supposed to be a sign of God's care and presence, but our faith and understanding may not be strong enough. Instead of arguing and disputing should we not be praying to the Holy Spirit for an increase in faith, love and commitment to God's way and how we live our relationships?" "That is what synodality is all about, isn't it?"
Scripture. In those days, Stephen full of grace and power did great wonders and signs among the people. Then some arose and disputed with Stephen. But they could not withstand the wisdom and the Spirit with which he spoke. From Acts 6:8-15. Pope Francis. Keeping our missionary fervour alive calls for firm trust in the Holy Spirit.There is no greater freedom than that of allowing oneself to be guided by the Holy Spirit, renouncing the attempt to plan and control everything and instead letting him enlighten, guide and direct us, leading us wherever he wills. EG 280. Reflect, share and act, pray.
April 25. Ernest said, "You know, that scripture story about Stephen from yesterday and today is a big challenge. He did great wonders because of his faith and also verbally really attacked the leaders because of their lack of faith and acceptance of Jesus and the Holy Spirit. So what are we supposed to do?" His brother replied, "I don't want to get killed but I do wish I had more courage. It's frightening what some of the terrorist groups, Islamic State or Boko Haram people, are doing nowadays, taking hostages and killing people, not even because they are stating their Christian belief, but just because they are other than themselves, Christians, or Jews it doesn't seem to matter. Religious bigotry and violence hasn't ended has it?"
Scripture Stephen said, "You stiff-necked people, uncircumcised in heart and ears, you always resist the Holy Spirit as your fathers did." When they heard this were enraged. Stephen full of the Holy Spirit said, " Behold I see the heavens opened and the Son of man standing at the right hand of God." They cast him out of the city and stoned him. From Acts 7:51-8:1a. Pope Francis. If the music of the Gospel ceases to resonate in our very being, we will lose the joy born of compassion, the tender love born of trust, the capacity for reconciliation that has its source in our knowledge that we have been forgiven and sent forth. If the music of the Gospel ceases to sound in our homes, our public squares, our workplaces, our political and financial life, then we will no longer hear the strains that challenge us to defend the dignity of every man and woman. FT277. Reflect, share and act, pray. Have we experienced or showed bigotry?
April 26. Jocelyn was studying Church history and their assignment was to study persecution from the early days until today. "More stories of death and persecution. Saul who had been a so-called righteous Jew, was in the forefront of the persecution. How much harm has been done in the world and the Church too because of this religious narrowness. I'm learning a lot. It's interesting that nowadays when Pope Francis is preaching so much more tolerance that intolerance seems to be on the rise too," she said to the family. Prince added, "In his own special intentions he asks us to pray for him and for unity and tolerance. I've heard that ISIS wants to assassinate him, so I think we should say a special prayer for him."
Scripture Devout men buried Stephen. But Saul laid waste the Church and entering house after house, he dragged off men and women and committed them to prison. From Acts 8:1b – 8. Pope Francis: It pains me greatly to discover how some Christian communities can tolerate different forms of enmity, division, calumny, defamation, vendetta, jealousy and the desire to impose certain ideas at all costs even to persecutions which appear as veritable witch hunts. Whom are we going to evangelise if this is the way we act? EG 100 When in the name of an ideology there is an attempt to remove God from a society that society ends up adoring idols and very soon men and women lose their way, their dignity is trampled and their rights violated. You know well how much suffering is caused by the denial of freedom of conscience and of religious freedom and how that wound leaves a humanity which is impoverished because it lacks hope and ideals to guide it. FT274. Reflect, share and act, pray. Discuss the popes of our time and offer special prayers for Pope Francis.
April 27. Freedom Day. April 27th. Friday. Freedom Day SA. The speaker began, "What does freedom mean to you as an individual and a member of a family and community? It can even mean different things in these different contexts. On this holiday celebrating and commemorating the day in 1994 when the first fully democratic election was held in South Africa we do celebrate freedom and commemorate the new constitution. Freedom is precious. It was and always is hard-bought and should be greatly appreciated. But it is not for free. It was bought at a price and still costs for many people. We, as families, can consider the cost of freedom and it is necessary and important to discuss the history of the day with those too young to remember the past." The packed hall applauded his speech. Would they go and do more?
It is truly right and just that we should give you thanks and praise O God, almighty Father for all you do in this world, through our Lord Jesus Christ. For though the human race is divided by dissension and discord, yet we know that by testing us you change our hearts to prepare them for reconciliation. Even more, by your Spirit you move human hearts, that enemies may speak to each other again, adversaries may join hands and peoples seek to meet together. By the working of your power it comes about, O Lord, that hatred is overcome by love, revenge gives way to forgiveness and discord is changed to mutual respect. From the Preface for Reconciliation. Reflect, share and act, pray.
A PRAYER FOR SOUTH AFRICA.
O God of justice and love bless us the people of Southern Africa and help us to live in your peace.
Lord, make me an instrument of your peace,
Where there is hatred let me sow love; where there is injury let me sow pardon'
Where there is discord let me sow harmony.
Divine master grant that I may not so much seek to be understood as to understand,
To be loved as to love,
To receive sympathy as to give it.
For it is in giving that we receive, in pardoning that we are pardoned,
in forgetting ourselves that we shall find unending peace with others. Amen
Your servants in Christ, The Bishops of Southern Africa
Pope Francis: There is a general feeling of powerlessness in the face of sociocultural realities that often times end up crushing families. Families often feel abandoned due to a lack of interest and attention on the part of institutions. AL 43. What is most needed today: God's saving love which precedes any moral and religious obligation on our part; it should not impose the truth but appeal to freedom and be marked by joy, encouragement and balance. EG 165.
April 28. Conversion experiences was one of Marie's favourite topics and she had written a whole little booklet about them. Some were life-changing ones, like Saul's others were more like a process of change. Some men and women feel called to join a religious congregation. Turning away from an addiction to drugs, alcohol or gambling can be a conversion too. "Many of us have small conversion experiences, possibly during a special church season or a personal event. The call to conversion is a constant companion in life. That's what I have discovered," Marie shared.
Scripture: Saul journeyed to Damascus and suddenly a light from heaven flashed about him. And he fell to the ground and heard a voice saying to him, "Saul, Saul why do you persecute me?" And he said, "Who are you, Lord?" And he said, "I am Jesus whom you are persecuting." Acts 9:1-20. Pope Francis: In some cases one of the spouses is not baptised or does not want to practice the faith. This can make the other's desire to live and grow in the Christian life difficult. Still some common values can be found and these can be shared and relished. AL 228. Any technical solution which science claims to offer will be powerless to solve the serious problems of our world if humanity loses its compass. Believers themselves must constantly feel challenged to live in a way consonant with their faith and not to contradict it by their actions. They need to be ever open to God's grace and draw constantly from their deepest convictions about love, justice and peace. LS200. Reflect, share and act, pray.
April 29. Death in the family is a reality for everyone. It is always sad when older persons pass on, but when a parent of a younger family is taken ill and dies it is more traumatic. The death of a child, especially through suicide, can be particularly traumatic. Zola, a psychologist and one of the parish family leaders listened to the group sharing of their experiences. Later she offered her professional experience to those dealing with some of the difficult losses. "Miracles, like bringing someone back to life don't happen any more. We so often wish they did, isn't that so?" she asked. "Dealing with death is a painful and difficult process which takes its own time but needs loving support along the way.
Scripture: Peter put all the widows outside and knelt down and prayed: then turning to Dorcas' body he said, "Tabitha rise." And she opened her eyes and when she saw Peter she sat up. And he gave her his hand and lifted her up. Acts 9: 42 Pope Francis: At times family life is challenged by the death of a loved one. We cannot fail to offer the light of faith as a support to families. To turn our back on a grieving family would show a lack of mercy and mean the loss of a pastoral opportunity and efforts at evangelisation. AL 253. Reflect, share and act, pray. Are there any widowed people that need our support?
April 30. 4th Sunday of Easter. Good Shepherd and Vocations Sunday. Fr Fidelis asked families to share. "I wonder if other mothers or fathers feel like I do about this business with the sheep. I really do love Pope Francis but can't easily relate to his saying that we should smell like the sheep. That's just not a decent thing for me, and I rather hope not totally necessary for my vocation! But what he really means of course is that we should imitate Jesus and be close to one another, be intimate and part of one another's life, especially you and your family members. Is that what a good life means to you? Jesus said "I came that they may have life and have it abundantly." Mrs du Plooy shared, "For me, life in abundance is a nice home, job, enough money at least not to be constantly stressed about it. Is that unreasonable?" Others commented, "It is also about good relationships, feelings of satisfaction and belonging." "Spiritual fulfillment too, gratitude for the abundant life Jesus offers and sense of acceptance of God's will, whether it is to marry, be single or become a priest or religious." Parents thought about "life in abundance" for the future of their children too. Patience suggested, "I think we should also go and ask our children what they think."
Scripture: I am the door for the sheep; if anyone enters by me he will be saved and will go in and out and find pasture. The thief comes only to steal and kill and destroy. I came that they may have life and have it abundantly. John 10: 9-10. Pope Francis: it is a profound spiritual experience to contemplate our loved ones with the eyes of God and to see Christ in them. This demands a freedom and an openness which enable us to appreciate their dignity. AL323. Reflect, share and act, pray.