Background notes and suggestions for a commemoration on the day.   A similar event can be held at another suitable time.       Toni Rowland – MARFAM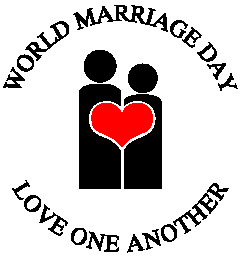 WORLD MARRIAGE DAY is celebrated on 2nd Sunday of February each year. This was first proposed by Marriage Encounter and has been approved by the Vatican. Not all families are built on marriage which nevertheless remains the ideal foundation for a family. Married couples are "our" couples, they are signs to one another, their family and the whole church. It is therefore meaningful to celebrate with married couples at who are invited to renew their vows while everyone can possibly also renew their own baptismal promises at a special Mass. Pope Francis: We can hardly stop advocating marriage simply to avoid countering contemporary sensibilities, or a sense of helplessness in the face of human and moral failings. AL 35
BIDDING PRAYERS. Many couples today experience difficulties in their marriage, some are separated, some divorced, some remarry and some are widowed. Marriage preparation is a process with stages, beginning informally in the family and continuing through adolescence and young adulthood until the more formal preparation for the wedding and married life. All these areas related to marriage can be included.
RECONCILIATION. Reference to the need for reconciliation can be made during the Penitential Rite. Ideally in preparing for the Day some couple formation and reconciliation can be offered.
RENEWAL OF MARRIAGE VOWS AND BAPTISMAL PROMISES.
Priest. (to all) Those who will renew their marriage vows today and we who are here to witness, do so as an act of faith and as part of the Christian community, so let us first renew our baptismal act of faith.
Priest. Do you believe in God, the Father, who gives us the gift of life?
All. We do believe.
Priest. Do you believe in his beloved son, Jesus Christ who so loved the Church that he gave his life for the salvation of all?
All. We do believe.
Priest. Do you believe in the Holy Spirit, who guides us in witnessing to Christ's relationship with the Church in our own lives?
All. We do believe.
Priest: (to couples) Dear married couples I invite you now to renew your own commitment to one another.
Husband and wife. I, N… renew the gift of myself to you, N… which I first made when Christ our Lord bound us together on our wedding day. I reaffirm my loving commitment to you, my total love, my absolute fidelity and my undying loyalty, for better, for worse, for richer, for poorer, in sickness and in health, all the days of our life.
I ask your forgiveness for any want of love, for any selfishness or hurt, for any failure or disappointment that I may have inflicted on you in the past and I promise for the time to come to give myself in love both to you and to our children, trusting in the grace and strength of Christ, our lord, who lives with us in our home.
Priest: What God joins together we are not to separate. Lord, confirm the covenant of love that these husbands and wives have renewed with each other before you and before your people. Enrich them with your blessings and continue to help them to remain faithful to their vow of love forever. In the name of the Father…
All. Amen
---
SUGGESTIONS FOR A NEW LOOK AT MARRIAGE PREPARATION AND THE FAMILY.
The Southern African Catholic Bishops Conference has asked the local Church to consider the different stages of marriage preparation. The first stage noted by Pontifical Council for the Family is REMOTE PREPARATION which begins from the first days of a child's life. Through models and experiences at home, in the extended family and catechesis throughout childhood, children and youth are prepared for a future marriage. Once a partner has been identified and a couple has decided to marry the deepening process of PROXIMATE PREPARATION is begun where. spiritual and relationship issues need to be considered. IMMEDIATE PREPARATION prepares the couple and those around them for the wedding, canonical requirements and the liturgy. As the first years of marriage are known to require adjustments to change NEWLY-WED support is very helpful too.
SUGGESTIONS FOR CATECHISTS, PRAYER AND SHARING GROUPS. Marriage – as an important aspect of family life – should feature in all forms of home and parish catechesis, RCIA, various sodality and prayer groups.
THOUGHT FOR THE DAY FOR REFLECTION AND SHARING. February 12. Sunday 6A. World Marriage Day. Extract from February THOUGHTS FOR THE DAY. Fr Fidelis had invited couples to witness on this day during the homily and share their relationship for their own sake, their children and as examples in the community. Joe and Tracy who were celebrating their 25th wedding anniversary shared, "Being apostles is not our own choice but it is God who chooses us in our unworthiness and makes us worthy. We experience that calling from God, a call to unity and to deeper faith and love for one another and through that for God. "
Fr Fidelis continued, "Matthew uses the words, ' It was said, but I say.' The Law of Christ is not like man-made laws possibly arrived at through a referendum, by consensus or determined by the ruling party in power. The law of Christ goes deeper; it is a law given by love and lived out in tenderness, love and mercy. Jesus uses very strong words referring to faithfulness, adultery and divorce. Difficult pastoral challenges related to marriage were considered by the 2014-5 Synods on the Family, discussed by Pope Francis in Amoris Laetita and the 2022 World Meeting of Families. He did not make changes in Church's teaching but proposed a more merciful view, careful discernment with pastors and decisions to be made in conscience. Discuss these issues of divorced and remarried people being barred from Communion, cohabitation and same sex unions too with one another and especially with young people who will hopefully consider marriage in the future. Help one another to see that ideally marriage should be built on the power of love, not the love of power.
It was said, whoever divorces his wife let him give her a certificate of divorce. But I say to you that anyone who divorces his wife except on the grounds of unchastity makes her an adulteress and whoever marries a divorced woman commits adultery. From Matthew 5:17-37
Marriage Prayer for couples. We praise and thank you Father for the gift of love and the gift of our marriage. Help us in good times to be thankful and in hard times to depend on your loving care for us and trust in your desire for our marriage to be a sign of love and of Jesus present in our lives and in the world around us. Amen.
INFORMATION ON RESOURCES FOR MARRIAGE SUPPORT.   This will depend on the diocese and parish. Info on some marriage programmes and movementscan be googled, e.g. Catholic Engaged Encounter. Marriage Encounter. Retrouvaille.   Couples for Christ.  Mina Nawe.  Alpha.  Contact diocesan offices or MARFAM.   Some parish priest or family offices in dioceses offer marriage preparation.     Check out US Catholic bishops website for Marriage Week.  [email protected]
---
MARRIAGE DAY LITURGY SUGGESTIONS
PRAYERS OF THE FAITHFUL
The intercessions may include the following:
• For our Holy Father, the pope, the bishops and clergy everywhere, that they may always guide us to grow in our love for God and for one another.
• For the leaders of our country, that they may value the gift of marriage and family life, that they may listen to the needs of families and enable them to lead richer, fuller lives.
• For our parish community, that all who come here will feel welcome and find a home with us.
• For our married couples, that they may be faithful to their vows and that their love for one another will grow stronger each day.
• For those preparing for marriage or who someday will be married, that they may use this time to explore more deeply the meaning of love and lifelong commitment in their lives.
• For those who are in troubled marriages, those who have given up or been abandoned and those who have lost a spouse, that they may experience the healing presence of Jesus in their lives.
• For all the members of the families in our community, present or absent, the old and the young, children and parents, that their experience of love and belonging will help them to overcome the problems they face in their family lives.
• For the sick and dying of our parish family and all those who care for them, that they may experience God's love for them in this ministry.
• For a greater respect for the dignity of marriage and family life in Church and society.
• For the special intentions of those here present….
Father you have given us the witness of the love of married couples to teach us how much you love us and how we should love one another. You have given us our families to create a home for us where we can learn to love one another as you love us. We ask you to listen to our prayers and help us to respond to your grace so that we may grow closer to you and to one another. We ask this through Christ our Lord.
Amen.
—————————————————————
MARRIAGE BLESSING
Almighty, eternal God, you have raised the unbreakable bond of marriage to become the sacramental sign of your Son's union with the Church, his spouse. Look with favour on these couples whom you have united in marriage as they ask for your help and the protection of the Virgin Mary. They pray that in good times and in bad they will grow in love for each other, that they will resolve to be of one heart in the bond of peace.
Lord in their struggles let them rejoice that you are near to help them; in their needs let them know that you are there to rescue them; in their joys let them see that you are the source of every happiness.
And May Almighty God bless you…..
MARFAM www.marfam.org.za.   [email protected]      Toni Rowland 0825521275