2021 FW 29 December 28, 2021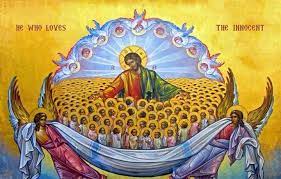 Once more during this holiday time I would like to share one of my stories from bygone years that even in 2021, I think, keeps its relevance as violence continues. On 28th December the Church celebrates the feast of the Holy Innocents, those innocent babies massacred by Herod in his jealously and fear of being displaced from his throne. The Holy Family escaped, into exile, in Africa. How many innocent babies, unborn and born, in many areas across the world, are sacrificed on altars of greed, selfishness, war and poverty. May 2022 bring us to greater awareness of the gift of life in all of creation, no matter the circumstances, and may our compassion and generosity help those in need.
A SOUTH AFRICAN CHRISTMAS STORY
Mary and the women sat around the fire while Jesus and the other young children cavorted around, imitating in their playfulness the calves and kids that their older brothers spent their days minding on the hillsides. The men it seemed were always about their own business while the women gathered together, did their chores, fetched firewood and water and prepared the food.
The older women would sit slightly apart, their cackling laughs as they watched the youngsters sometimes irritating the younger mothers. But what about discipline? This world out there for which they should be preparing is a serious place, a bad place and the children need to be well prepared.
The rainy season had long since come and gone, the mealies had been planted and now stood tall, their dark silk tops contrasting with the bright green leaves that now hung limp in the heat. This year again they thanked God for the harvest that was almost due and would fill their bellies and grainstores, feed their cattle and provide fuel and seed for the future. They thanked God too for the time of peace and plenty that reigned in the land, well aware that it had not always been like this.
A time of peace and plenty
Mary recalled with anguish the time just a few years ago when Jesus was only a baby and their little family had gone home, back to their birthplace. They had spent time with each of their relatives, the old grannies, the uncle who had arranged their marriage and the various brothers and sisters who still lived there. As they sat they had heard how there had been tension between the clans in the area for some time and then suddenly one evening the night erupted with noise, the yells of blood-thirsty warriors and the screams of terrified mothers and children. "Take your baby and run. Go far away from here," shouted her aunt and disappeared. She and Joseph had grabbed Jesus and run into the mealie fields, down the rows, as far as they could and there they waited terrified. In the morning as they climbed in the shelter of the tall plants to a vantage point, they saw the devastation in the village. Houses were still burning and the eerie silence was broken from time to time only by the screech of a vulture.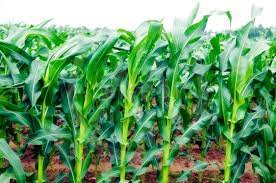 It seemed they were alone, hiding in the security of this waving mass of green. Fortunately there was plenty to eat, young, fresh mealies in abundance. They cut green leaves and made a little bed, wove them into a mat and even made a kind of roof to protect themselves from the midday sun. And as the day cooled and evening came they moved on, quietly, sadly, away from this place of violence, to protect the baby they had been given to care for.
The next evening when they stopped, they again gathered mealies and placed them in a basket made of mealie leaves. Then before sitting down to eat they prayed, "Blessed are you Lord, God of all creation. This fruit of the earth is your gift to us. The work of our human hands becomes our thanksgiving gift to you. May this gift and we ourselves, parents of a precious child, be always acceptable to you."
TR FAMILY MATTERS 28 DECEMBER 2021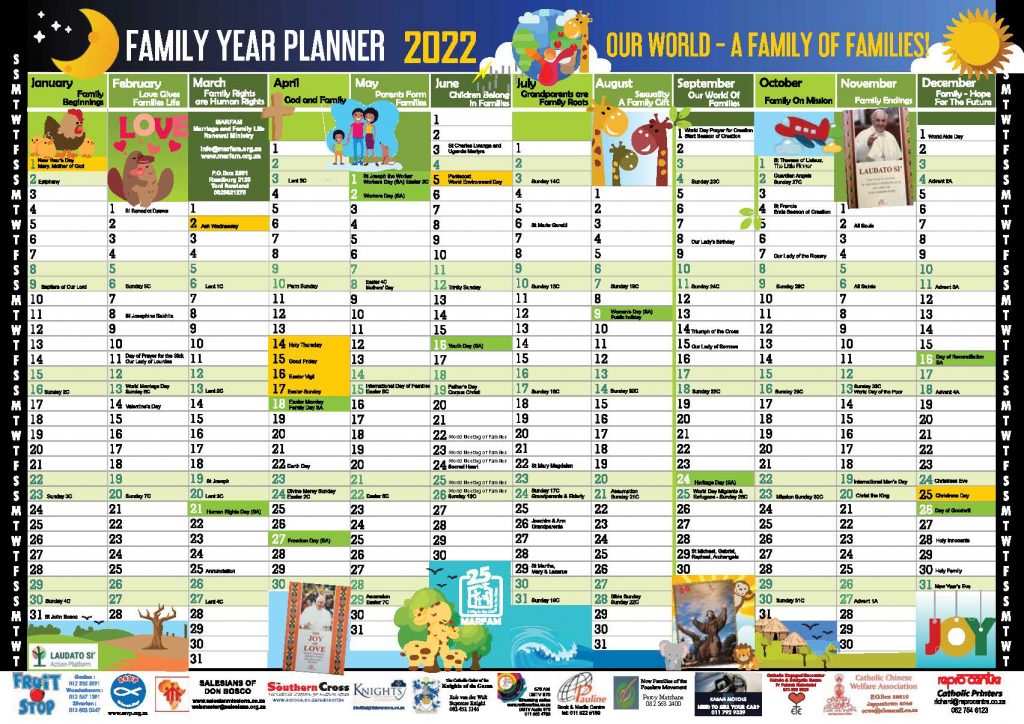 2022 is almost upon us and the 2022 FAMILY YEAR PLANNER and related resources are available through http://www.marfam.org.za or by email [email protected]. The overview for January is attached and published on the web. DAILY THOUGHTS will be published and posted on social media from January 1.
2022 JANUARY DAILY THOUGHTS OVERVIEW
January overview. "In the beginning……" are the first words of our Bible. In the beginning before the world, the sun, moon, stars, animals, plants and humankind were created there was only God, as Trinity, a community of love. But God had a passion to create, to share, to love and so every created thing came into being.
The desire for creation, co-creation and re-creation was implanted into every creature and so our world has evolved. Humankind was given the task of being stewards or carers for creation. That includes responsibility to care for our own families and all the families of creation. But has humankind gone too far, and overridden the role of creator out of love and begun to create for our own selfish ends? How can we discern our impact on creation in the ongoing development and mutation of the coronavirus and the causes for climate change? Can we and should we begin once more in managing creatively every area of our lives?
The creation accounts in the book of Genesis contain in their own symbols and narrative language profound teachings about human existence and its historical reality. They suggest that human life is grounded in three fundamental and closely intertwined relationships: with God, with our neighbor and with the earth. These three vital relationships have been broken both outwardly and within us. This rupture is sin. LS 66 As never before in history common destiny begs us to seek a new beginning. Let ours be a time remembered for the awakening of a new reverence for life, the firm resolve to achieve sustainability, the quickening of the struggle for justice and peace and the joyful celebration of life. LS207 Earth Charter
Setting the Scene. Parish spiritual life and activities have been negatively affected by the restrictions due to coronavirus in the last 2 years. But possibilities do exist to begin anew to promote family spirituality and address some of the practical and relationship problems that are faced by family members and in society, also affected by climate change. Faith sharing and prayer, ecological education and conversion and listening circles are recommended by the Church and by Pope Francis for parishes, groups and families. Documents especially Amoris Laetitia on the family, Laudato Si and the LS Action Platform on the Care of the Earth, Fratelli Tutti on social love and the 2023 Synod process promoting dialogue, are suggested resources built into the DAILY THOUGHTS. They include a "look at life, a passage from scripture for the day and a quotation from Pope Francis. Ecotips for becoming eco-friendly families are included. A deeper study of the documents is a valuable catechetical tool for all ages.