My Thought for the Day for 24th Sunday began with a story. The local parish priest, Fr Peter, enters the church carrying a huge cross to the surprise of the congregation. He explains that the gospel of the day concluded with Jesus' challenging invitation "if anyone would come after me, let him deny himself and take up his cross and follow me." "This one was pretty heavy, I must say" he added. 14th September was the feast of the TRIUMPH OF THE CROSS and the 15th is the feast of OUR LADY OF SORROWS, Mater Dolorosa.  "What's with all those crosses," one may ask.  "Are there not some mixed messages there?"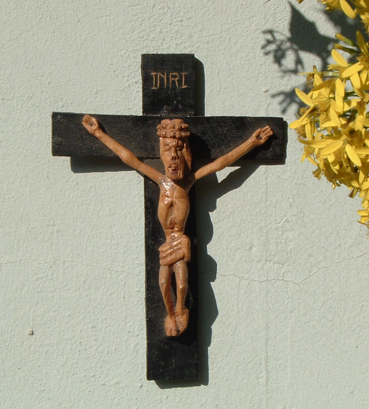 The call of the cross is firstly to repent. Those were already the 1st words Jesus uttered as he set out on his ministry. Repentance too in the Season of Creation is a call to repond to "the cry of the earth and the cry of the poor." But do we not all cry and are we not all poor, brought low by suffering, suffering the various losses of our lives, especially the last months? Losses that are in part self-inflicted in our lives and in our world, a World of Families. Are our most painful losses not the crosses of a loved one, a hurting marriage, a broken relationship? How can we, but how can we not, repent?
On the other hand, the Triumph of the Cross is a celebration. The feast commemorates the dedication of the Basilica of the Holy Sepulchre in Jerusalem on the presumed site of the Crucifixion. But now we celebrate the cross and its saving power.  It speaks of hope and eventual triumph.  As we so often repeat, "We adore you O Christ, and we praise you, because by your holy cross you have redeemed the world."   
The feast of Our Lady of Sorrows, however, brings us back to a recognition of suffering, the Mother's seven swords, a mother's seven sorrows in life. But in this is Mary's most precious gift of compassion and love for sufferers, for us her human children. But what about all of creation, animals, plants and our Mother Earth who herself is suffering too?
At this time, as we vacillate between our faith, our desolation, our hope and our consolation may this be a season of encouragement.  As we answer the call of the cross we pray, "Holy Mary, Mother of God, pray for us sinners, for the will to repent and the courage to suffer.  Help us to understand, in marriages and families, that down is not out, and a mere step away from up and about, so that we may celebrate in triumph in God's own good time."   TR   FAMILY WEEKLY 15 SEPTEMBER.    SEASON OF MARRIAGE AND OF CREATION.
MARFAM's STATIONS OF THE CROSS FOR BEREAVED is broadcast on Sunday evening 8-9pm on Radio Veritas.
ARE YOU SUFFERING A LOSS AT THIS TIME?
Booklets for the Bereaved and Widowed in various languages are available from MARFAM. Email

[email protected]

Call Toni 0825521275