How many Mary hymns do we Catholics know and sing? What is the content, mainly? Mary, Jesus, virgin, mother, sometimes flowers or Star of the Sea? I did find one to St Joseph, "Hail holy Joseph hail" which does make reference to Mary. Occasionally the Holy Family might feature in Mary hymns, but the one below is the only one I know that includes Joseph too and has become one of my special reflections because of the beautiful message and pretty tune. (I took it from the Red Carol Book, an old book of carols.)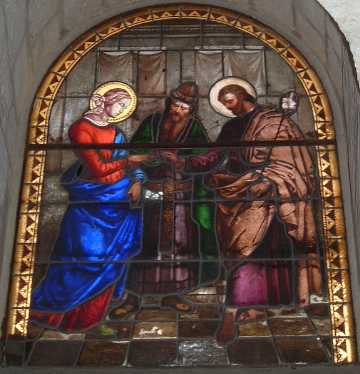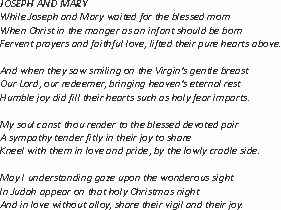 Most of us sing quite lustily when in church, especially as members of a choir. I wonder how many of us ever sing at home, and with our family or at least some of them, but not babies only. I know that singing isn't everyone's cup of tea but an activity that a few of us have started is singing, or at least reflecting on the words and meaning of a hymn every day. I try to choose appropriate ones for the liturgical season or other occasions or themes, e.g. human rights, and I am also choosy about the theology built into the words. Depending on when they were composed the theology could be quite dodgy. For example much as I love the popular Lenten hymn "God of mercy and compassion," I have a problem with having "deserved hell and endless misery, with its pains and torments and for all eternity." Should we not mean what we say or sing? Many modern hymns have excellent messages and as they are poetic they flow nicely when you pray with them. Others are too sentimental for my liking, or a simplistic ditty, or with unattractive music. Was it St Augustine or an earlier saint who said, "When you sing, you pray twice." I do believe King David would agree. Come to think of it, maybe I should set up a zoom hymn singing group.
St Joseph has been well promoted in recent times and is now included in the Liturgy of the Eucharist and other prayers and on 19 March we celebrated the Solemnity of St Joseph. On 25th March the Annunciation of the Lord to Mary by the Angel Gabriel is also a Solemnity. No reference is made to Joseph there in Luke's gospel. Matthew describes the really challenging and hurtful effect on Joseph when learning of her pregnancy. They were already betrothed, but there is no reference to their marriage in any of the gospel accounts. At what stage would they have become a family I wonder?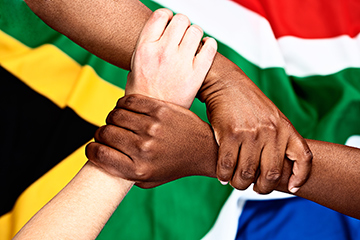 In between these two feasts we in South African celebrated Human Rights Day. Families have rights but these are generally not recognized as such. The only CHARTER OF RIGHTS OF THE FAMILY I have come across is that published by the Pontifical Council for the Family in 1983, but I don't think it is widely known or promoted. Normally a Charter of Rights or a Bill of Rights focuses on the individual which is fine, but some also recognize that a family is the basic unit of society, so why should there not be family rights. Consider the well-known statement, "The whole is greater than the sum of its parts." Even recognizing women, children, elderly, pre-born, people with disabilities and combining them does not equate to considering the rights of a family – which will include all those and any number of configurations, but is a unit. As a network of relationships it is particularly concerned about this psychological aspect and so does require rights of its own.
The SA Department of Social Development has been engaged in developed a family policy. I have been part of the process since it began early in the 21st century. A Green Paper, a White Paper and now a Revised White Paper are part of the process but I am told that without its being put before Parliament in the form of a Bill and once again debated and once it is passed it becomes an Act and only then becomes law and has to be implemented. It is to be hoped that will happen in the near future so that its rights as a unit and of its members can be enforced. Maybe it should be asked and debated, "What are the rights of a family when father and mother both go to work?" and "should child grants not rather be family grants, as is done in some countries?" or "Are the rights and needs of their elderly members family rights?" These issues do require a change of mindset that in itself could have an impact on the high incidence of gender-based violence so often considered the No 1 priority. In other words, Family Matters! even the Holy Family. TR FAMILY WEEKLY 24 MARCH 2021
FAMILY HOLY WEEK ACTIVITIES:
A FAMILY PRAYER MEAL, https://marfam.org.za/2021/03/23/a-simple-family-prayer-meal/ A FAMILY RECONCILIATION SERVICE. https://marfam.org.za/2021/03/23/family-reconciliation-service/
Contact MARFAM [email protected] for LENTEN THOUGHTS LOVE IS A LAW, LOVE IS HIS WAY, STATIONS OF THE CROSS FOR FAMILIES in English, Afrikaans, Zulu, Sotho, Tswana. also STATIONS OF THE CROSS FOR WIDOWED and STATIONS OF THE CROSS FOR BEREAVED. THE RESURRECTION STORY for children.. STATIONS OF LIGHT for families. .